Indiana among the early offers for 2013 wing Zeigler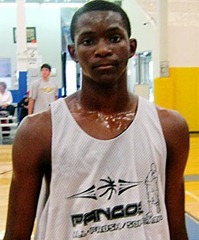 While word of Indiana's interest in 2013 wing Byron "Bo" Zeigler just began percolating this spring, the Hoosiers have been tracking the 6-foot-6, 180-pound Detroit Community (MI) standout for quite some time.
"Indiana started recruiting me my freshman year," Zeigler told Inside the Hall on Wednesday afternoon. "They came to the gym and they've just been following me ever since and have been coming to my games and to watch me work out at my school. I've gained a lot of interest in them over the years."
The most recent development in Zeigler's recruitment by the Indiana coaching staff came in April when he was offered a scholarship after a work out.
And the interest has continued in recent weeks as Zeigler heard from the staff on June 15, the first day college coaches were able to call class of 2013 prospects.
"It's just feels so comfortable whenever I'm around them," he said. "It's like we're family or something every time I talk to them."
That comfort level and familiarity will likely prompt an unofficial visit to Bloomington in the not too distant future.
"I was supposed to take a visit to Indiana last month, but they never set it up," Zeigler said. "I'm planning to take it in the next week or so."
Zeigler, who plays AAU with the Michigan Hurricanes, also holds offers from Central Michigan, Iowa State and Michigan State and is receiving interest from Florida, Georgetown, Michigan, Texas Tech and Xavier.
The junior-to-be has been described as a strong, athletic forward with the ability to play above the rim, but Zeigler also feels he can be a difference maker defensively at the next level.
"My strengths are really my defense, getting out in transition and finding my teammates," he said. "I'm working on picking up my intensity on the defensive end."
Filed to: Byron Zeigler