NBA Top 100 Camp Q & A: Hanner Perea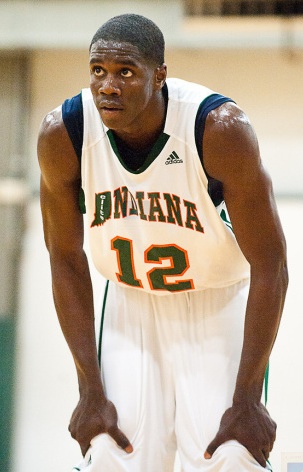 The NBA Players Association Top 100 Camp ran from Thursday through Saturday at the University of Virginia and four of Indiana's class of 2012 commitments — Hanner Perea, Jeremy Hollowell, Kevin "Yogi" Ferrell and Ron Patterson — participated. Hamilton Southeastern's Gary Harris and Brewster Academy's Mitch McGary were also in attendance.

Greg Rosenstein, former men's basketball beat writer for The Indiana Daily Student and currently of USA Today, had a chance to catch up with all six prospects in a set of interviews that will appear on Inside the Hall.
Rosenstein caught up with Perea, who scored 38 points in six games at the camp, for a Q & A :
How has camp been going so far for you?
It's going really well. I love playing against players like this. Going against tough guys like this allows me to see where I need to get better.
What have you learned that you need to work on?
Right now, I need to work on my shot and my post moves. I need to move around the basket more and I need to talk more.
How did your first game (finished with six points) go this morning?
It went pretty good. I got a few blocks and a lot of rebounds. I know this is just the first game. As it keeps going on and on, I'm going to try to get better.
Outside of the game, you and the other players have had other developmental sessions. What was that like?
It's been a good experience working with the NBA players and NBA coaches. My dream is to get to the NBA and having the opportunity to work with them now and asking them what I need to work on is great. They can see what I need to work on and can help me with that.
What was it like to play with Ron (Patterson) this morning?
It was fun. We didn't get to play together much, but it was fun. I know him and everything about him – the way he plays, he knows the way I play – so it was good.
What is your plan for the rest of the summer? What are you hoping to improve on?
I'm going to be taking summer school classes to get my grades better for next year. I'll be playing AAU the entire month of July. During summer school, I'll be with my high school coach, so we will be working everyday in the weight room and on the court to get better.
(Photo credit: Jamie Owens of J. Scott Sports)
Filed to: Hanner Perea