Calbert Cheaney named Director of Basketball Operations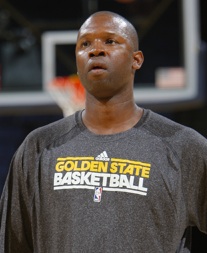 Calbert Cheaney's return to Bloomington is official. Per IU Media Relations:
BLOOMINGTON, Ind. – One of the most decorated players to ever wear the Cream and Crimson, is returning to Bloomington to rejoin the Hoosiers men's basketball program. Indiana University men's basketball coach Tom Crean announced at his Father/Son camp that former IU All-American and National Player of the Year Calbert Cheaney has been named Director of Basketball Operations.

Coach Crean and Cheaney will be available to meet with the media at noon, Monday, in the press room in Assembly Hall.

"Calbert will have an impact on our program in a major way," said Crean. "He wants to get into coaching full time and he knows the path it takes, the work ethic and the sacrifice. Every kid who plays college basketball at this level aspires to achieve what Calbert did on and off the court, both collegiately and as a professional. Having him here as a mentor on a day-to-day basis will be invaluable to our players."

Cheaney, an Evansville native who played 13 seasons in the NBA following his career at Indiana, returns to Bloomington after spending the last two years working for the Golden State Warriors.

"My family and I believe that this was the right time to begin a career in college basketball and I am especially looking forward to playing a role in the growth of the players at Indiana," said Cheaney. "I'm very grateful to Coach Crean for this opportunity to return to IU and I look forward to contributing immediately in any way possible."
Cheaney was a three time All-American (1991,92, 93) for the Hoosiers who was named College Player of the Year and winning both the Wooden and Naismith Awards and Big Ten Player of the Year following his senior year. He is the all-time leading scorer in Big Ten history with 2,613 points and led Indiana to a 105-27 record a Final Four appearance in 1992 and a #1 ranking for most of the 1993 season. He averaged 22.4 points and 6.2 rebounds as a senior.

"Calbert knows the standard that it takes to be successful academically as a high-level student athlete and he knows what is expected to play at the NBA level.," added Crean. "He is excited to learn the business of college basketball and we are thrilled to have Calbert, Yvette, Julian and Sydney returning to Bloomington to be a part of the IU basketball family on a full time basis."

For his career at Indiana, he averaged 19.8 points, 5.2 rebounds and made 55.9 percent of his field goal attempts, 43.8 percent of his three-point field attempts and 79.0 percent of his free throws. He also holds the school record for field goals made with 1,018. Three times he was named first team All-Big Ten and four times he played in the NCAA Tournament. For his accomplishments, he was inducted into the IU Athletics Hall of Fame in 2003.

He was the sixth player chosen in the 1993 NBA Draft and the Harrison High School product played 13 seasons in the NBA, amassing career averages of 9.5 points, 3.2 rebounds, 1.7 assists and 26.7 minutes in 825 regular-season games with Washington, Boston, Denver, Utah and Golden State. Cheaney averaged double figures in scoring in each of his first five NBA seasons, including a career-high 16.6 points per game during his sophomore NBA campaign with the Bullets in 1994-95.

He began his post-playing career at Golden State where he worked in the team's front office as a special assistant in 2009-10. In his front office role, Cheaney worked closely with the team's players to assist with their overall personal and professional development, while also assisting the entire basketball operations staff with various functions, including pro player evaluation. Last year, he moved to the bench to serve as an assistant to former IU great Keith Smart. He also has made quite an impact in the Evansville community off the court, having built the Greater St. James Community Recreation and Education Center in 1998.
Filed to: Calbert Cheaney