NBA Top 100 Camp Q & A: Kevin "Yogi" Ferrell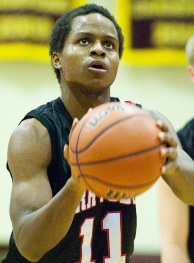 The NBA Players Association Top 100 Camp got into full swing today at the University of Virginia and four of Indiana's class of 2012 commitments — Hanner Perea, Jeremy Hollowell, Kevin "Yogi" Ferrell and Ron Patterson — are participating. Hamilton Southeastern's Gary Harris and Brewster Academy's Mitch McGary are also in attendance.

Greg Rosenstein, former men's basketball beat writer for The Indiana Daily Student and currently of USA Today, had a chance to catch up with all six prospects in a set of interviews that will appear on Inside the Hall. Rosenstein's talk with Ferrell kicks off the series:
How has your experience here at the NBA Top 100 Camp been so far?
Everything's going great. They're telling us a lot of different strategies, so it's been a lot of fun.
How'd your first game go today?
We won by 30. We were all playing real well. I just played the point guard position and was looking to pass the ball. I think I did pretty well. That's the main thing: I'm trying to win. I don't want to lose a single game here. I'm going to do what it takes to win.
Who else is on your team and why were you so successful?
Our biggest strength as a team is shooting. We made a lot of shots. Codi (Miller-McIntyre), the other point guard, could play the two and was also making a lot of shots. Our bigs down low were effective and that's what helped us win the game.
Outside of the game, you and the other players have had other developmental sessions. What was that like?
The coaches here are acting like mentors. The skill development workout was very instructive. My favorite part was when this coach, I can't remember the name, showed us some new ball handling drills. I feel if I do that, my handles will get tight, so I've learned a lot. It's been a lot of fun.
Each team is coached by either a current or former NBA player. What is that experience like?
My coach is Chucky Atkins and he's been great. It's cool working with these guys because they've been there. We're all trying to get there. So they tell us what it takes and I'm going to listen. Everything they say, I'm going to listen 100 percent.
Is there any particular player you are excited to face off against this week?
Marcus Paige (North Carolina commitment). There's always talk of that top point guard, so I got to go at him. He's probably the main guy.
What do you have planned for the rest of the summer?
We're going to Los Angeles, Minnesota, Chicago and a tournament in Indiana. A lot of tournaments.
What do you hope to improve on these next few months?
Winning. In the Spring we didn't win a tournament. We were struggling. So in July, we need every tournament. I think we are best team in the country.
(Photo credit: Jamie Owens of J. Scott Sports)
Filed to: Yogi Ferrell