Q & A: 2013 Belleville (IL) guard Malcolm Hill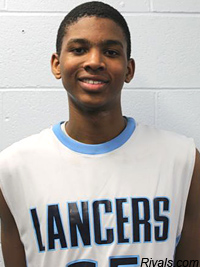 One of the newest names to emerge on Indiana's 2013 recruiting radar is Belleville (IL) guard Malcolm Hill. The 6-foot-5, 195-pound guard, who plays AAU with the SW Illinois Jets, took an unofficial trip to Bloomington on Sunday.
On his visit, Hill had the opportunity to tour campus with assistant coach Bennie Seltzer and also participated in a camp at Assembly Hall and Cook Hall. Inside the Hall caught up with ESPN.com's No. 36 overall player in the 2013 class on Wednesday night for a Q & A:
(Editor's note: HD video of Hill from the adidas May Classic is available after the jump.)
On the Sunday trip to Bloomington:
"It was just a visit. I looked around their campus and went to their camp and that's all. They have a nice campus, it's a good environment and I saw that they have good study habits. Their study program has their kids make time for school and basketball."
On Cook Hall and the camp:
"I really like the practice facility a lot. I talked to Coach Crean. We went through drills. We talked about how their style of play was and how they do team ball instead of individual basketball."
On his feelings about Illinois and Missouri, who were the first two schools to offer and the other schools recruiting him:
"I'm kind of neutral about it. I'm not too excited. But then again I'm not just waving it off. I'm glad they offered me a scholarship. The other schools that are looking at me are Ohio State, Xavier, UCLA, Notre Dame, Wisconsin, Providence and Tennessee."
On upcoming camps and visits he has planned:
"I'm going to visit Michigan this weekend. I'm going to visit Ohio State in about three weeks and I'm going to the Reebok Camp."
On how playing in front of coaches in July compares to the spring when no coaches can watch:
"It's no different. I just play basketball. It doesn't really matter who is in the stands for me. I'm not going to play any different."
On what factors will be most important when choosing a school:
"I'm looking for education and what they provide for me school wise. Then what they provide for me on the basketball court as well as what my role would be on the team, how my relationship would be with the coaches and the players.
On if Indiana will continue recruiting him and if he's interested in IU following the visit:
"Yes and yes. They said they were going to keep in touch."
Video of Hill from last month's adidas May Classic that ITH shot for our friends at UMHoops.com is available in the embedded player below. Hill is wearing No. 23 in blue:
Filed to: Malcolm Hill