Preview: Indiana Junior-Senior All-Star Exhibitions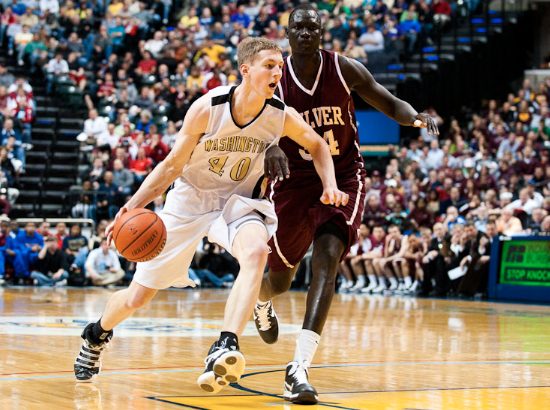 (Photo credit: Jamie Owens of J. Scott Sports)
With the annual Indiana-Kentucky All-Star games a week away at Bellarmine University on June 10 and Conseco Fieldhouse on June 11, the final tuneup for the Indiana teams will come on Monday and Wednesday with exhibition games against the junior all-stars.
Here's a look at the exhibition games including venues, start times, rosters and other notes:
— Monday at Washington, Wednesday at Kokomo: The exhibitions kick off Monday night at the Hatchet House in Washington with the girls at 6 p.m. (eastern) and boys at 8 p.m. Start times will be the same for Wednesday's exhibitions at Kokomo. Admission is $5 at the door.
— Senior roster: The seniors are led by a trio of McDonald's All-Americans: Mr. Basketball Cody Zeller of Washington (Indiana), Pike's Marquis Teague (Kentucky) and Gary Wallace's Branden Dawson (Michigan State). Other notables: Austin Etherington of Hamilton Heights (Indiana), Bloomington South's Darwin Davis Jr. (Xavier), Center Grove's Andrew Smeathers (Butler) and Warsaw's Nic Moore (Illinois State).
— Core junior roster: The junior team is comprised of six "core" players that will play at both exhibitions, six "south" players that will play on Monday only and six "north" players that will play on Wednesday only. The core players include Kevin "Yogi" Ferrell of Park Tudor (Indiana), North Central's D'Vauntes Smith-Rivera, Broad Ripple's Ron Patterson (Indiana), Lake Central's Glenn Robinson III (Michigan), Kokomo's D.J. Ballentine and Hamilton Southeastern's Gary Harris.
— South junior all-stars: Lawrence Central's Jeremy Hollowell (Indiana), Avon's Austin Burgett (Notre Dame) and North Central's Ronnie Johnson (Purdue) highlight the six junior south all-stars that will compete in the game at Washington.
— North junior all-stars: La Porte La Lumiere's Hanner Perea (Indiana), Ft. Wayne South's Raphael Davis (Purdue), Pendleton Heights' Kellen Dunham (Butler) and Bowman Academy's DeJuan Marrero highlight the six junior north all-stars that will compete in the game at Kokomo.
— High-level talent: There will be no shortage of talent on display as 13 players ranked among ESPN.com's top 100 prospects nationally will compete: 2011: Teague (7), Zeller (13), Dawson (22); 2012: Harris (16), Smith-Rivera (32), Ferrell (34), Hollowell (41), Perea (49), Robinson III (60), Davis (72), Dunham (81), Patterson (86), Johnson (89).
— An answer for Mr. Basketball? Even though the games are labeled as exhibitions, they're usually more hard fought and structured than typical all-star games. It's probably not a stretch to say these games will be more competitive than the weekend games with Kentucky. From a matchup perspective, the biggest problem for the juniors is likely the ability of Zeller to dominate in the post. The junior team is heavy with guard and wing talent, but finding an answer for Zeller could be the difference.
Inside the Hall will be in attendance for both exhibitions and will provide analysis and video.
Filed to: 2011 Indiana All-Stars