A deeper look at ESPN's A-HOPE investigation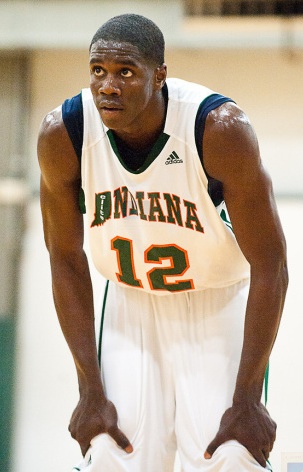 ESPN.com, as you know by now, published a series of stories written by Mike Fish focusing on the Bloomington-based African Hoop Opportunities Providing an Education (A-HOPE) program and Indiana Elite today.
Their main piece focuses primarily on Mark Adams, who founded A-HOPE. He's also a coach with Indiana Elite and is the father of Drew Adams, who was formerly the Director of Basketball Operations at Indiana.
A related story claims that 2012 La Porte La Lumiere commitment Hanner Perea received benefits that, according to ESPN, "appear to put Perea in violation of NCAA preferential treatment and extra benefits bylaws (12.1.2.1.6)."
After reading over both stories thoroughly, some thoughts follow in no particular order of importance:
— Perea, guardianship and benefits: Adams did not deny in e-mails to ESPN.com that he paid for airline tickets for Perea to visit his native country of Colombia as well as a $400 laptop that he shares with Obij Aget, another A-HOPE and Indiana Elite member that attends La Porte La Lumiere. The story also mentions that Perea received a used iPod.
Adams explains in an e-mail to ESPN:
"Hanner got here with one pair of old shoes and 2 to 3 changes of clothing!! I am sure there have been times with all the A-HOPE kids while at school either a roommate or friend that had a much better financial background would get something new and just give the old item to one of these kids. Hanner was here for 2 years with no cell phone, there were times that his family tried to call but couldn't reach him so last August I bought him the cheapest cell phone my cell provider offered and he shares my minutes. I don't really know where he got the iPod, I may have given him one of my kids' old ones. You can get iPods for next to nothing anymore. The only two kids at La Lumiere [Perea's current school] that didn't have a laptop was Obij [7-foot Obij Aget from Sudan] and Hanner. A-HOPE bought the cheapest $400 laptop Best Buy offered for Obij and Hanner to share."
Whether or not Perea faces eligibility issues as a result of the reported benefits could come down to one issue that is not made clear in the story: Is Adams the legal United States guardian for Perea?
Adams told ESPN that he is the legal guardian for two A-HOPE kids, but said it was not important to identify their names.
Earlier today, Dustin Dopirak of The Herald-Times spoke with Adams and published this series of tweets:
Ok, just got off the phone with Mark Adams. Lots to discuss here. Adams said that long before this story, he's had meetings with IU compliance and been on conference call with the NCAA. He said all parties were comfortable that what he's doing is not in violation of NCAA rules. One issue he said is that the NCAA hasn't yet defined what the role of a non-profit organization can be when it comes to a student athlete. He said, however, that he knows he's in the clear in terms of A-HOPE paying for trips home, for clothing, and for laptops and school supplies. He said the foundation does those things for all students involved with the program. As for the iPod, he's not exactly sure how Perea got it. He said he knows one of his roommates from La Lumiere gave him one but it's also possible he gave him an old one. For reasons he chose not to disclose, he does not expect that to affect Perea.
Fish wrote that "the NCAA declined to comment specifically on Perea, but a spokesperson said that generally, "benefits from the prospects' coach other than basic living expenses are considered against NCAA rules." If Adams, however, is Perea's guardian, this could be a non-issue.
Also important to highlight from the above passage from Dopirak is that Adams says that "all parties were comfortable that what he's doing is not in violation of NCAA rules."
(Note on the guardianship issue potentially being important: Former IU target Moses Ayegba was docked nine games at Georgetown this past season for his mentor, Joe Boncore, buying him a plane ticket to Nigeria, but Boncore was not his legal guardian.)
— A-HOPE/Indiana Elite connection to Indiana: "In the past year alone, eight players with A-HOPE or Indiana Elite ties have signed or committed to play in Bloomington," Fish wrote.
But what is not given is any context on the names besides Perea or Peter Jurkin. Cody Zeller's decision was completely independent of A-HOPE or Indiana Elite. Ron Patterson never played a game for Mark Adams until this spring and is no longer playing for him as he moved back to Indiana Elite One, which is coached by Chris Hawkins. Jeremy Hollowell's first game with Indiana Elite was in April of 2011 after he'd already verbally committed to IU. And Collin Hartman is no longer with the Indiana Elite program. While Fish's statement was factual, to infer that Adams, Indiana Elite or A-HOPE were primary influences is taking a giant leap.
— Crean defends Indiana's hard work on the trail: Indiana's head coach of three years has been quick to point out during his tenure that the rest of the Big Ten doesn't want to see the Hoosiers return to prominence. He echoed that sentiment in the piece:
"The situation is, we have been working. And the last thing I am going to do or have anybody in this program do is apologize for how hard we have been working. And when you recruit as aggressively as we're trying to recruit, especially in a world like this where it served people to have Indiana stay down a lot more than it served people to have Indiana come back up, you understand it and you don't really worry about it. If I was worried about it, I wouldn't be out recruiting tonight."
The message to be gleaned from these remarks is that it's business as usual in Bloomington. As negative as it may seem on the surface to be mentioned in a high-profile investigative piece on ESPN, the findings revealed no black marks that can be tied to Indiana University, the men's basketball team, Crean or the coaching staff.
— ESPN's photo choice: The editors at the World Wide Leader chose an illustration of Adams, Perea and Tom Crean to promote the story on the front page of ESPN.com throughout most of Thursday. (You can see it here.) The photo seems to paint all three figures in a negative light and the inclusion of Crean is curious given that he's not implicated of any wrongdoing in the piece. A bit of sensationalism coupled with a thirst for page views right off the top.
Filed to: A-Hope, Hanner Perea, Indiana Elite, Mark Adams, Tom Crean