Donnal commanding high major attention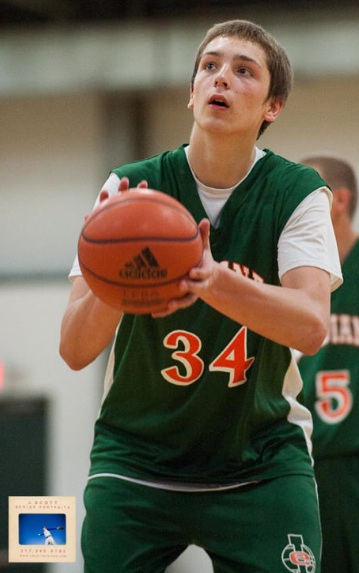 (Photo credit: Jamie Owens of J. Scott Sports)
Indiana fans made their way to Assembly Hall on Saturday afternoon to watch two of the nation's best freshmen — James Blackmon Jr. and Trey Lyles — meet Dan Dakich's Indiana Elite South squad.
And for most of the game's 32 minutes, it looked like Spiece Indy Heat, led by the pair of Indiana commitments, would emerge victorious.
But Mark Donnal had a different idea.
The 6-foot-9, 200-pound Anthony Wayne (OH) center poured in 23 points and added five rebounds and four blocks as IE South prevailed, 78-77.
The game's final possession saw Donnal block a runner in the lane from Trevon Bluiett just before time expired.
"He started out, he hit a couple of shots (from the perimeter) and I thought he fell in love," Dakich said of his emerging sophomore big man after the win. "He's a tough guy. I thought at the end when he went down on the block, he just did what he can do. He finally started getting post position. He started getting two feet in the lane."
The Ohio native's play this spring has earned him the attention of several high major schools including Butler, Indiana, Michigan, Michigan State, Ohio State and Wisconsin.
Donnal, who averaged 15.1 points, 6.2 rebounds and 1.5 blocks this past high school season, flew under the radar as Anthony Wayne won just one game.
"Last year in the summer a lot of guys saw him and liked him and went to go see him during the year," Dakich said. "When he goes on the block, he's a strong, skilled, good kid."
The new recruiting attention, according to Donnal, is only driving him to continue working on his game.
"It just shows I need to keep getting better and just keep getting in the gym," he said. "I'm definitely getting stronger so I don't get pushed around at the college level."
While the interest from the Hoosiers is still relatively new, the staff has made it known they'd like to get him on campus this summer for an unofficial visit. He's also set up a visit to another Big Ten school for next month.
"They've (Indiana) called me a few times and want me to come down on a visit," Donnal said. "I think I'm going to Michigan sometime in June and I'm also going to their elite camp."
HD Video of Donnal from the adidas May Classic after the jump …
Filed to: Mark Donnal