Jackson talks improvement, interest from Indiana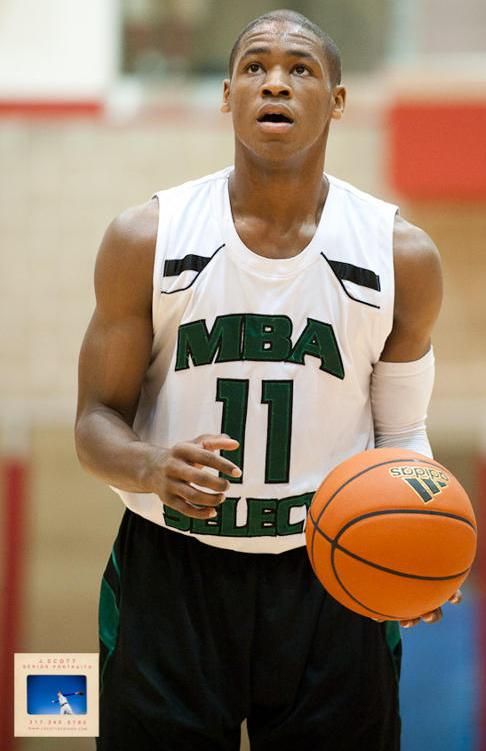 (Photo credit: Jamie Owens of J. Scott Sports)
After a standout weekend at the Bill Hensley Memorial Spiece Run 'N Slam All-Star Classic, the list of schools looking to get involved with 2013 Mishawaka Marian point guard Demetrius Jackson has grown significantly.
The 6-foot-1, 180-pound Jackson averaged 24 points and six assists per game as a sophomore and his rapidly improving game is garnering serious interest from several high-major schools, including Indiana.
"I've gotten stronger and faster. I'm still working on skill development," Jackson told Inside the Hall after MBA Select's loss in the gold bracket at the adidas May Classic. "I work hard in the gym every day and get a lot of repetition and just continue to get better as a player."
But even with the new attention, Jackson is keeping his focus on the court rather than getting caught up in his recruitment, which also includes interest from Michigan, Michigan State, Notre Dame, Purdue, Illinois and Xavier.
"All I care about is winning games," he said. "Regardless of who recruits me and who doesn't, you've still gotta work hard and play hard. I'm not going to force it. I'm just going to let it fall into place."
Jackson and MBA Select had a tough weekend in Bloomington as the Mishawaka-based program dropped all three games in the 16-and-under division.
"Obviously, we didn't play good enough," Jackson said. "We've gotta play good defense. We've got to work harder defensively and just execute. We've just got to dig deep and that comes from within. Dig deep and play with heart."
The interest from Indiana has picked up in recent weeks as Jackson received a phone call from Tom Crean, who he met for the first time a little over a year ago.
"We just talked about IU and the fans, the atmosphere, how it is down here," he said. "I actually met him before he started recruiting me last year at the Final Four. And so we talked about that. Just a regular person to person conversation."
Jackson said he plans to take some unofficial visits in June and one of those will likely be to Bloomington.
"I'm more than happy to come and visit all of the schools," Jackson said. "Taking advantage of the opportunities I'm given. Just come down, have fun with it and enjoy it."
Related:
— HD Video: Demetrius Jackson at Spiece Run 'N Slam (May 11, 2011)
Filed to: Demetrius Jackson