Recruitment blowing up for 2012 big man McGary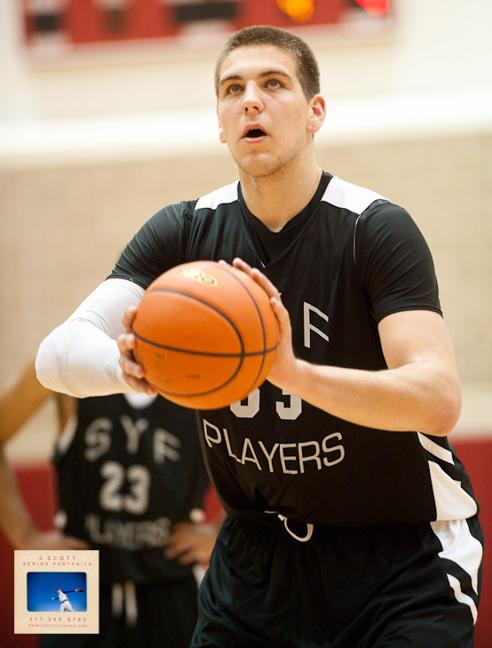 (Photo credit: Jamie Owens of J. Scott Sports)
A year ago, Mitch McGary's recruitment was limited due to question marks about his academics.
So the 6-foot-11, 255-pound Chesterton native made the decision to transfer to Brewster Academy in Wolfeboro, New Hampshire to focus on getting his grades in order and also to play against some of the country's top competition.
Fast forward to the spring of 2011 and McGary, now a member of the class of 2012, is making waves as one of the nation's most sought after big men.
"It's been blowing up actually the last couple of weeks," McGary told Inside the Hall on Sunday at the adidas May Classic. "I think it's been mainly because I moved out to Brewster. The transition out there got me better on and off the court. Grades were a factor for most schools last year, but now my grades are well."
The list of schools in regular contact with McGary is impressive. He reeled off Duke, Texas, Arizona, Florida, Florida State, Michigan, Indiana, Purdue, West Virginia, Connecticut, Kentucky, Kansas, Memphis, Louisville and Maryland as schools showing interest.
The move to Brewster has not only helped McGary academically, it's also helped him transform his body.
"I've gained about 30 pounds, but I've cut out all the fat. A lot more lean muscle," he said. "My endurance, I haven't been showing it a lot lately but my motor is what the coaches usually like and how I hustle after rebounds."
With time on his side in the decision making process, McGary described himself as "wide open" and noted that he would probably would not make a decision until late. Proximity to home doesn't seem to be a factor, either.
"I think it's just whatever school fits me best," McGary said. "I moved out to Brewster and I transition and now I'm probably farther away at prep school than I would be at any college. I'm like 18 hours from my hometown, so I don't think I can get any farther than that."
Indiana, as noted above, remains in the picture with the Brewster big man.
"They are," McGary said. "But I don't know if they have any scholarships, so I'm not sure."
Related:
– Pittsburgh Jam Fest HD Video: Mitch McGary highlights (April 18, 2011)
– McGary has Indiana offer for 2011, unsure on 2012 (December 8, 2010)
Filed to: Mitch McGary