adidas May Classic: Day Two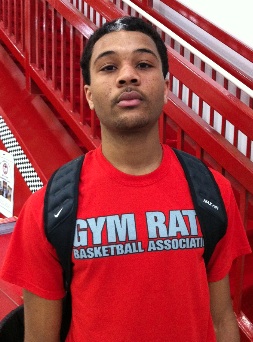 Inside the Hall spent the majority of Saturday at Assembly Hall and Cook Hall in Bloomington for day two of the adidas May Classic. Our Saturday notebook follows:
— Picking up where they both left off a week ago in Ft. Wayne, both James Blackmon Jr. and Trey Lyles were impressive in a pair of pool play games. The duo helped lead Spiece Indy Heat past a formidable SW Illinois Jets team (led by 2013 standout Malcolm Hill) in a morning game at Cook Hall. In an afternoon game at Assembly Hall, Indy Heat fell to Dan Dakich's Indiana Elite South squad. After that game, we talked to Dakich to get his thoughts on the pair of IU commits:
"I think he's (Lyles) really good. I've said this before, all the guys they have committed, those two I guys I think are great. The rest of them are good and all that. If there's better players than that in the freshman class, Blackmon and Lyles, I can't imagine. Those two guys are great."
Blackmon Jr. had 25 in the loss to Indiana Elite South and 12 in the win over SW Illinois Jets. Lyles had 13 points in the win and six points in the loss. Trevon Bluiett also continues to shoot the ball well from the perimeter for Spiece Indy Heat. The Park Tudor freshman had 28 points in the loss to Indiana Elite South.
— It was our first in-person look at Indiana Elite South's Mark Donnal and the big man did not disappoint. He poured in 23 points and came up with a key block late in the upset win over Spiece Indy Heat. Donnal's footwork, motor and ability to shoot the ball from the perimeter will make him a sought after prospect. Donnal lists Michigan, Indiana, Michigan State, Ohio State Wisconsin and Butler as schools of interest.
— It was also our first look at MBA Select and Mishawaka Marian guard Demetrius Jackson. The 6-foot-1 lead guard is out of the AMC after MBA Select dropped its first game in tournament play tonight at Cook Hall, but Jackson's stock is steadily on the rise this spring. Jackson's court vision, quickness and ability to score the ball probably put him close to the top of the list of 2013 point guards in the state. We'll have more on Jackson next week.
— Jeremy Hollowell admitted that his knee and wrist slowed him down a little in his return for Indiana Elite, but despite the layoff, Hollowell still showed off his ability to score the ball in a variety of ways. At 6-foot-7, the Lawrence Central wing can shoot over smaller defenders from the perimeter and overpower small defenders in the lane and at the basket. His laid back approach is sometimes confused with a lack of effort, but Hollowell will make an instant impact upon his arrival in Bloomington.
— Hanner Perea seems genuinely excited about playing with his future point guard Yogi Ferrell: "I love playing with him. Now he knows me much better. I tell him a lot of times he's not used to playing with big guys on his high school team. With me and Big O (Obij Aget), he needs to get used to it. It's getting better every day."
— The evening ended with a surprise as the Gary Harris-led D3 Pride team fell in the opening round of the 17-and-under gold bracket to the Michigan Titans, 77-75. Harris finished with 22 points and led a furious comeback in the final minutes that came up just short. When Harris has his perimeter shot working like he did at times on Saturday, he becomes an even tougher cover because he can get into the lane almost at will. One of the highlights of the afternoon came in a pool play game when Harris and North Carolina commit J.P. Tokoto of the Wisconsin Playground Warriors traded a pair of finishes above the rim.
Filed to: Adidas May Classic