Indiana in the mix for rising point guard Jalen James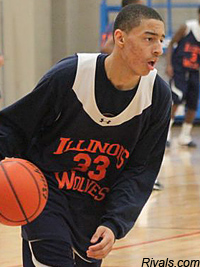 Illinois Wolves director and coach Mike Mullins is no stranger to coaching elite Division I talent, particularly at the guard position.
The Wolves have produced several notable alums, including Evan Turner of the Philadelphia 76ers and Demetri McCamey, who recently finished up a stellar career at Illinois.
As Indiana looks for point guard help for its 2013 recruiting class, the Hoosiers have been in touch with Mullins about another member of the Wolves' program, Jalen James of Chicago Hope Academy.
"Coach Buckley and I talked. We've had Coach Buckley and Coach Crean recruit plenty of our players before," Mullins told Inside the Hall at the Spiece Run 'N Slam All-Star Classic. "Jalen's been recruited by most of the Big Ten already. I think Tim (Buckley) has been looking for someone else in that class for another point guard option."
The 6-foot-2, 180-pound James is beginning to emerge on the national scene with his strong play this spring on the AAU circuit.
Illinois, Wisconsin, Michigan and Northwestern were in to see James during the most recent open period and Baylor and Cleveland State have already extended scholarship offers.
"He's a kid that came from a very little school that didn't get a lot of publicity," Mullins said. "I think he's going to be a pretty good player. He has good size, frame and skills."
Mullins said James has improved in several areas, including becoming more of a vocal leader, since last fall.
"We're very hard on our point guards. Our point guards have done very well in college," he said. "They've started as freshmen for many, many years. They're playing all over the place. He knows that. He's taken coaching very, very well. As long as he does that, he'll continue to improve."
Despite the recent flurry of recruiting attention, James is still wide open and has no early favorites.
"It's brand new. He's flattered at the attention he's received. It's brand new for him and his parents," Mullins said. "I think they need to go through it and be educated a bit."
Check out video of James from the Spiece Run 'N Slam over at UMHoops.
Filed to: Jalen James