Spiece Run 'N Slam All Star Classic: Day Two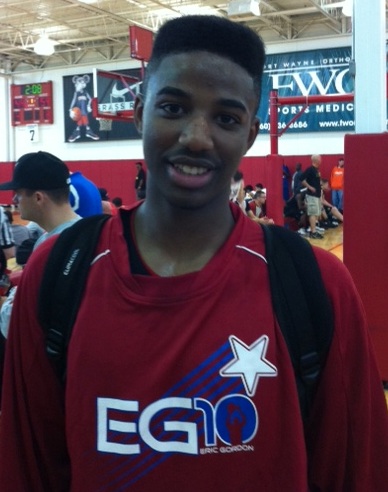 Inside the Hall hit the road on Saturday for the Bill Hensley Memorial Spiece Run 'N Slam Classic in Ft. Wayne. We spent Saturday morning and afternoon at the Spiece Fieldhouse watching Indiana Elite Team Indiana, Spiece Indy Heat and Eric Gordon All-Stars 15's. Our Saturday notebook follows:
— 2014 guard Jaquan Lyle (pictured) continues to show why he's considered one of the best freshman both in the state and also nationally. The 6-foot-4, 187-pound Lyle is a brilliant passer and when he's not facilitating for teammates, can also score off the dribble and from the perimeter. Many of his passes lead to turnovers because his teammates are simply not ready for his delivery of the ball. Lyle's court vision for a kid that just turned 15 is remarkable. The Evansville Bosse freshman is still at four offers — Illinois, Indiana, Purdue and Xavier — and will likely add an offer from Ohio State in the near future.
— In a high-profile pool play game, Indiana Elite Team Indiana narrowly escaped the Illinois Wolves and it was Kevin "Yogi" Ferrell that set up Kierran Woods for the game-winning 3-pointer as time expired. The Park Tudor point guard finished with 14 points in the win and had 15 points in an earlier pool play win. Ferrell is striking the perfect balance of setting up teammates to succeed while still looking for his own shot. His jump shot continues to improve and his ball handling in traffic is an aspect Ferrell says he's trying to improve upon.
— Ron Patterson is still underrated nationally, but the Broad Ripple guard consistently plays defense and that will make him an instant factor upon his arrival in Bloomington. Patterson struggled a bit from the perimeter in the two pool play games on Saturday, but the elevation and form on his jump shot looked solid. One area Patterson is continuing to work on is ball handling and he played the point for a few stretches as Ferrell moved off the ball.
— Indiana's most athletic recruit, Hanner Perea, stood strong in a meeting with Illinois Wolves forward and Purdue commit Jay Simpson. Perea stepped out and knocked down a few perimeter shots on the afternoon, which is an area of his game that's still developing, and also finished with authority at the rim several times.
— Jeremy Hollowell was not in attendance for Elite's first two games on Saturday, but did arrive in Fort Wayne for Elite's first tournament game. The Lawrence Central forward did not play in the tournament opener.
— 2014 forward and IU commit Trey Lyles played much better on Saturday and scored in just about every way possible. Lyles has a solid arsenal of moves around the basket and can step out to the 3-point line and knock down shots. In a pool play game against The Family, Lyles spun baseline and finished with a flush on the other side of the rim. His agility and skill set for his size is remarkable. Another impressive trait Lyles possesses is his business-like approach to the game. He handles himself exceptionally well for a 15-year old. Despite rumors to the contrary, Lyles will return to Arsenal Tech for his sophomore season according to his father, Tom.
— Lyles' teammates, James Blackmon Jr., started out hot in a meeting with The Family, reeling off nine points in less than four minutes. Blackmon Jr. can shoot it with range, but he doesn't settle for jumpers and attacks the lane with regularity. As a result, the Bishop Luers freshman went to the line frequently and converted at a high rate. Much like Lyles, Blackmon Jr. has been well-coached and his demeanor is impressive.
— A 2013 name to keep on the radar is Mac Irvin Fire forward Russell Woods, who confirmed to Inside the Hall that Indiana has shown interest. The 6-foot-8, 200-pound Woods is just beginning to sort through the recruiting process and Illinois, Purdue, Wisconsin, DePaul, Tenneesse and Marquette are also involved. Woods said Indiana watched him, presumably in an open gym, during the last contact period.
— As Mike Pegram reported yesterday, Indiana has offered 2013 Detroit wing Byron Zeigler. The 6-7 Zeigler told Zach Osterman on Saturday that he's planning to visit Bloomington at some point.
— Non-IU related, but word broke out on Saturday that D'Vauntes Smith-Rivera will transfer from North Central to Oak Hill Academy for his senior season. No word on whether Smith-Rivera will still compete in June with the Indiana junior all-stars. If not, that would open a spot on the "core" roster that competes in both exhibitions.
We'll have more from the Run 'N Slam Classic, including video and Q & A's, in the coming days on Inside the Hall.
Filed to: Bill Hensley Memorial Run 'N Slam All-Star Classic