Zeller's MVP effort helps Gold prevail, 126-122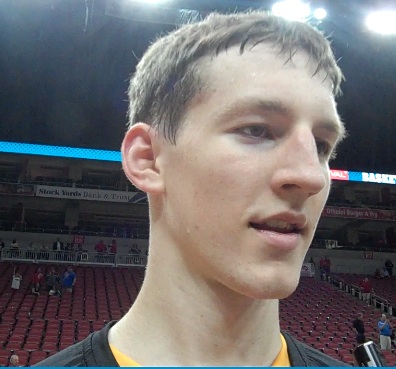 LOUISVILLE — Setting up for charges. Diving for loose balls. Running the floor. All things not often associated with all-star games.
But not in the case of Cody Zeller.
The Indiana signee did all of those things on Friday evening at the KFC Yum! Center in Louisville.
And for his effort, Zeller was rewarded with a team MVP award as Gold defeated White, 126-122, in the 2011 Kentucky Derby Festival Basketball Classic.
"That's just how I play," Zeller said afterward. "Just playing to win. It was a good thing we got the win."
The Indiana Mr. Basketball finished 16 points on 7-of-11 shooting and grabbed nine rebounds.
"It's awesome how hard he plays and how good he is," Austin Etherington, who also played for the Gold team, said of Zeller's effort. "I just hope he's not a one-and-done. That's all I've got to say."
Etherington struggled from the field and finished with just two points on 1-of-7 shooting in 14 minutes. But the future IU guard said he enjoyed the three day experience in Louisville and getting to know some of the top players from around the country.
"It's been a lot of fun. Being with the guys and knowing that next year we'll be seeing them again and building friendships with them was a lot of fun."
NBA Scout on Zeller: I had the chance to talk with an NBA scout and got an overwhelmingly positive review of the future IU big man. "He's got it." Zeller's efficiency and understanding of the game were two things that stood out most: "He shoots and he makes. A lot of guys shoot a lot, but they miss. If I was a coach, I'd find a way to get him shots. You can find guys to miss on any street corner. He's definitely as good as advertised." He also mentioned Zeller's use of ball fakes as something he doesn't seen often enough from others in the high school game.
Etherington finishes second in 3-point shootout: The Hamilton Heights senior finished second to Seton Hall signee Aaron Cosby in the 3-point shootout, which took place at halftime. "I choked, I'll say that," Etherington said with a smile. "I was feeling it and then I ended up not coming through at the end."
Future Big Ten foes: Four future Big Ten opponents were in the game and here's a quick look at how each did:
Amir Williams – Ohio State/Gold:  11 points, eight rebounds and a block in 17 minutes
Branden Dawson – Michigan State/Gold: 23 points, three rebounds, two steals, one assist in 18 minutes
LaQuinton Ross – Ohio State/Gold: 26 points, 14 rebounds, five assists, seven turnovers, two steals in 26 minutes
Andre Hollins – Minnesota/White: Four points, two rebounds, one steal, one block, one turnover in 22 minutes
Postgame video:
Filed to: Austin Etherington, Cody Zeller, Kentucky Derby Festival Classic