IndyBall Shootout player evaluations: Davis Jr., Blackmon Jr. and Hartman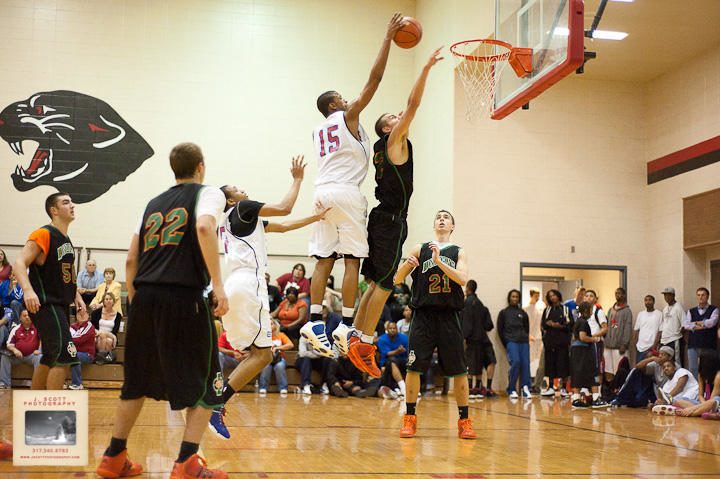 Inside the Hall hit the spring AAU trail in Indianapolis over the weekend for the IndyBall.com Shootout, which featured several IU commits and recruiting targets. Here are notes on three underclassmen that have committed to Indiana from recruiting analyst Joe Eberhardt. (Photo credit: Jamie Owens of J. Scott Sports)
Devin Davis Jr., Warren Central, Eric Gordon All-Stars
– Eberhardt's take: The sophomore wing was extremely productive for his Eric Gordon 16-and-under squad. The 6-5 Davis finished well around the rim and cleaned up the glass well on the offensive and defensive ends. He's improved his shot since last year and is now able to knock down the 3-point jumper when given space. Davis' length and athleticism make him dangerous both as a rebounder and finisher as he exhibited an ability to sky above opponents on the glass and also finish above the rim. As he continues to progress, he should continue to improve his ball handling which should make him more comfortable on the wing.
Collin Hartman, Indianapolis Cathedral, Eric Gordon All-Stars
– Eberhardt's take: The 6-7 sophomore had a relatively quiet weekend in his first event with the Eric Gordon program. Hartman shot the ball well from deep and though he wasn't extremely aggressive offensively, he didn't make many mistakes and functioned well as a distributor. He also excelled on the glass as he came up with a fair share of tough rebounds and crashed the boards on just about every missed shot. It's sometimes easy for players to disappear on such a talented AAU team, but Hartman will need to assert himself more as he continues to adjust to playing with the Eric Gordon All-Stars.
James Blackmon Jr., Ft. Wayne Bishop Luers, Spiece Indy Heat
– Eberhardt's take: The 6-2 freshman looked noticeably stronger and more defined this weekend than when I previously saw him in December at the IPSAC Midwest Challenge. He shot the ball well from the perimeter both off the catch and off the dribble. Blackmon Jr. also appeared to have more bounce than he did back in December as he showed his ability to finish above the rim. Another aspect of his game that was impressive was the freshman's willingness to call for the ball, attack off the dribble and finish against contact in the lane. Blackmon Jr.'s game is more well-rounded and impressive when he mixes up his penetration with his perimeter game as he sometimes has a tendency to fall in love with the jump shot.
Filed to: Collin Hartman, Devin Davis, James Blackmon Jr.