IndyBall Q & A: 2014 guard James Blackmon Jr.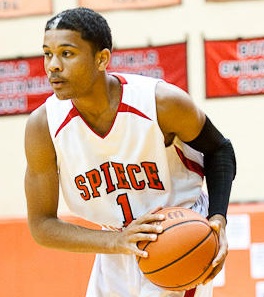 Ft. Wayne Bishop Luers guard James Blackmon Jr. became the youngest recruit to commit to Indiana in the Tom Crean era when the talented freshman gave a verbal pledge to the Hoosiers in September of 2010.
Inside the Hall (along with Kyle Neddenriep of The Indianapolis Star) talked to the Spiece Indy Heat shooting guard about a variety of topics following a pool play game of the IndyBall.com Shootout at North Central High School. (Photo credit: Jamie Owens of J. Scott Sports.)
On what he'd like to accomplish this spring and summer in AAU:
"I just want to get back to where I was conditioning wise. I just came off of spring break and I haven't really touched a ball all that much. I got (Team) USA tryouts (coming up) and I just want to get my conditioning back to what it was."
On the level of comfort playing with the same group of guys again this year in AAU:
"We all started playing together last year. And the team, as soon as we stepped on the court together, we just had a good mixture of play. And now we're adding older guys to our team, so that makes it even better."
On the opportunity to play against older guys at the 16-and-under level:
"I look forward to competition whenever I can get it so I look forward to that."
On what he's looking to add to his game before his sophomore season:
"I'm just trying to get quicker and stronger. I already know how it's going to be next year. It was a good test for me my freshman year, so I just want to come back even better sophomore year."
On how he felt he played as a freshman at Bishop Luers:
"I felt like I could score. Scoring was the best thing I could do. I just want to pick it up on all aspects of my game and scoring will come even easier."
On his reaction to IU's recruiting success in the months following his commitment:
"It's real exciting to think about if we're all on the court together some day. It's just crazy even thinking that we might all be on the same court at one time."
Filed to: James Blackmon Jr.