IndyBall Shootout player evaluations: 2012 class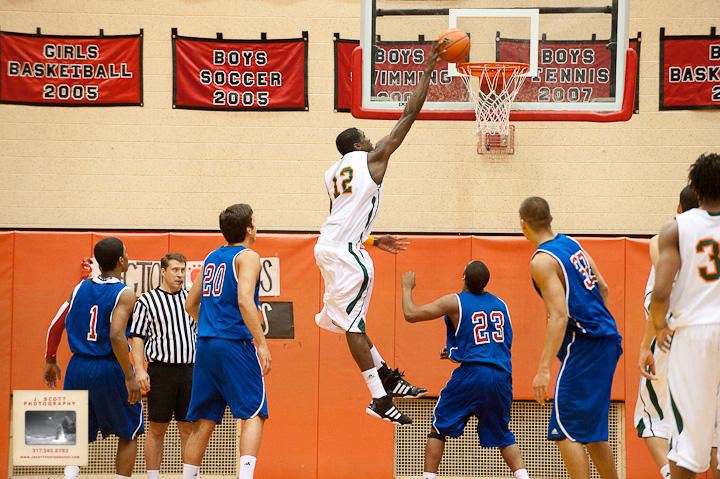 Inside the Hall hit the spring AAU trail in Indianapolis over the weekend for the IndyBall.com Shootout, which featured several IU commits and recruiting targets. Here are notes on prospects in the 2012 class from editor Alex Bozich and recruiting analyst Joe Eberhardt. (Photo credit: Jamie Owens of J. Scott Sports)
Hanner Perea, La Porte La Lumiere, Indiana Elite Team Indiana
– Bozich's take: The Colombia native was somewhat limited by a sore hamstring, but still managed to display that elite athleticism that is responsible for his rise up the national recruiting rankings. Offensively, he's far more dangerous at this point hovering around the paint and looking for lobs and putbacks. Playing with a point guard like Ferrell that will drive into the lane and look his way should produce plenty of opportunities for easy buckets. But in order for Perea to become more well-rounded offensive threat, he'll need to develop a more consistent post game and continue working on his jump shot out to 10 or 12 feet. Defensively, Perea changed a number of shots with his tremendous length.
Jeremy Hollowell, Lawrence Central, Indiana Elite Team Indiana
– Eberhardt's take: A late addition to the Indiana Elite team, Hollowell didn't appear to miss a beat. He looked great all weekend long, scoring by knocking down perimeter jump shots and attacking defenders off the dribble. Hollowell looks to have improved his athleticism heading into this weekend, finishing several dunks in traffic and pleasing the crowd with his bounce. He also played a big part in Indiana Elite's defensive game plan on Gary Harris, helping to hold the fellow 2012 star to just four field goals in the Indiana Elite vs. D3 Pride matchup. This weekend was a solid all-around performance for Hollowell, showing off the versatility that makes him so impressive. As long as Hollowell continues to assert himself, he should be one of the most productive players on the AAU circuit this summer.
Kevin "Yogi" Ferrell, Park Tudor, Indiana Elite Team Indiana
– Bozich's take: It will be hard for Indiana fans not to get excited about a Ferrell-led team taking the court in the winter of 2012 in Bloomington. The future Hoosier point guard is a natural leader that should have no problem taking on that role for Indiana Elite as the summer moves along. During a Saturday pool play game, Ferrell was lights out from the perimeter, but also managed to share the ball and keep teammates involved. The Park Tudor junior has a complete offensive game that includes a jumper with plenty of elevation, a solid mid-range game and the ability to make difficult shots in the lane.
Gary Harris, Hamilton Southeastern, D3 Pride
– Eberhardt's take: The Hamilton Southeastern junior was impressive all weekend, showing his versatile scoring ability from game-to-game. While Harris shot the ball well from deep in spurts, it wasn't going in each and every time. But when his perimeter shot was not falling, he drove hard to the hoop and either finished or got to the foul line. He showed that he doesn't fall in love with the jump shot and was very willing to accept contact in exchange for free throw opportunities. Harris threw down multiple jaw-dropping dunks that brought fans to their feet and served as a reminder of his remarkable athleticism.
Ron Patterson, Broad Ripple, Indiana Elite Team Indiana
– Eberhardt's take: Patterson was streaky with his jump shot this weekend, but looked to make an impact in other ways. The 6-3 junior was very active on defense, defending the wing well and blocking shots when opportunities arose. Patterson also finished very well around the rim, throwing down dunks both in traffic and on the break. He was also the recipient of multiple Yogi Ferrell lob passes and turned a couple of those passes into finishes at the rim. When shots aren't falling, Patterson could look to be more aggressive off the bounce with the ball in his hands.
Filed to: Gary Harris, Hanner Perea, Jeremy Hollowell, Ron Patterson, Yogi Ferrell