That's A Wrap: Will Sheehey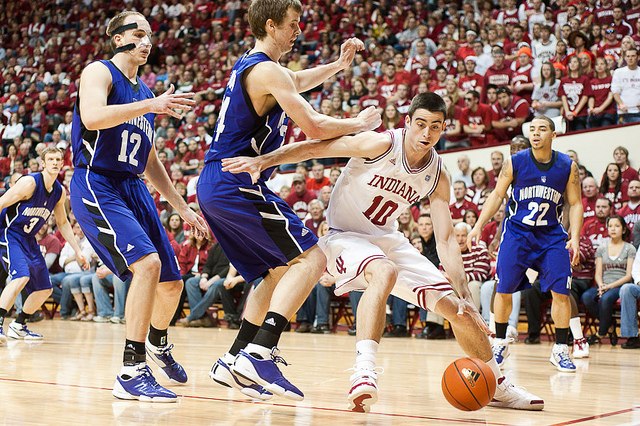 Welcome to "That's A Wrap," our attempt to make some sense of the 2010-11 season. Sit back. Relax. Grab some popcorn. Get your read on. Today: Will Sheehey.
Final Stats (32 games): 4.8 ppg, 2.1 rpg, 14 steals, 31 off. rebounds, 7 starts, 48.4 FG%
It's probably safe to assume the expectations surrounding Will Sheehey were rather tame when the freshman forward arrived on campus last fall. The 2010 recruiting period had been somewhat quiet, and Sheehey didn't have quite the marketable athleticism of fellow rookie Victor Oladipo. We thought.
Turns out that pot might have been called a little early. As the season progressed, Sheehey turned from energy guy off the bench to one of Indiana's mot consistent and aggressive players at either end of the floor. He showed great strides in his defense and decision-making, and compared to his freshman counterpart looked a tad more physically ready for the college game.
And then of course, he did this:
Highlight-reel stuff for sure, but it's important to remember the back story.
On the previous Iowa possession, one of Sheehey's teammates had gotten tied up down low with Melsahn Basabe, the Hawkeyes' 6-foot-7, 225-pound freshman. Some of the common handbags had ensued, but rather surprisingly, Sheehey rushed over from several feet away and quickly inserted himself into the situation.
It was either an act of camaraderie or an act of petulance, depending upon your view of the situation, as Sheehey thrust himself into a scene that had a lot less fire before he arrived. In a way, Sheehey almost looked like he was trying to start something.
And then on the next possession he finished it.
Sheehey was an attitude guy on a team sorely lacking it. When Michael Thompson went off for 22 in a home loss to Northwestern in February, it turned out Sheehey was the only Indiana player to request the assignment of defending him. Request the assignment.
It says something negative about Indiana as a whole, but also something very positive about Sheehey.
When we saw the young man's energy and zeal, we thought "Here's a hustle player. Here's a glue guy for the next four years, one that will bond together the talent coming down the pipe."
By the end of the conference season, we saw a player who had earned seven starts that almost no one thought would grab even one. And we saw a player whose ability and mentality will be crucial for Indiana going forward.
Bottom line: If he works hard this offseason, and really commits himself in the weight room, it's easy to see Sheehey pushing for a starting position next year. He might not get it, but when you consider his toughness, energy and aggressive offensive game, it's undeniable that Will Sheehey brings an edge to his team that probably no other current player can.
Filed to: Will Sheehey