That's A Wrap: Bobby Capobianco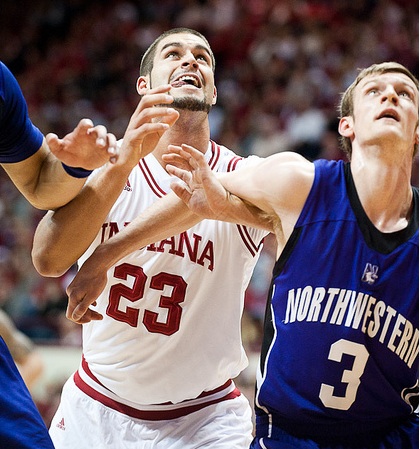 Welcome to "That's A Wrap," our attempt to make some sense of the 2010-11 season. Sit back. Relax. Grab some popcorn. Get your read on. Today: Bobby Capobianco.
Final Stats (26 games): 1.0 ppg, 1.2 rpg, 47.4% FG, 50.0% FT in 6.3 minutes per game
On a team desperately seeking interior help, Bobby Capobianco's 2010-2011 performance did little to inspire that he'll ever become more than a depth player at the high-major level.
Tom Crean's first recruit of the 2009 class saw his minutes drop from 11.9 per game as a freshman to just 6.3 during his sophomore campaign and he failed to get off the bench in six of IU's contests.
And when he did enter the fray, it seemed a whistle followed almost immediately. Consider this statistic: Capobianco logged more fouls (44) than total points (26). Capobianco's fouls adjusted for 40 minutes per game? 10.7, the worst average on an IU roster that fouled more than any BCS school.
The regression was disappointing because at times during his first season in Bloomington, Capobianco looked like a player that possessed the potential to develop into a solid backup. There was a sense that he'd made some strides from the beginning to the end of his first season and was perhaps ready to take that next step into a 15-to-20 minute player.
And when Guy-Marc Michel's ruling from the NCAA came down, it was assumed that Capobianco would be one of the players who would stand to benefit on the depth chart.
But that opportunity never materialized for the 6-9, Loveland, Ohio native and his season ended at the Big Ten Tournament with reporters questioning him about his status for next season.
Shining moment: Three rebounds in 14 minutes in IU's 60-57 win over Minnesota on Feb. 2.
Bottom Line: Capobiano's battle for minutes will only get tougher with Tom Pritchard returning for his senior season and the arrival of Cody Zeller in Bloomington. Indiana also continues to evaluate and recruit additional frontcourt help for its 2011 recruiting class. If Capobianco is to reverse the course and get back into the discussion for playing time, he'll need a brilliant offseason of conditioning improvement and significant strength gains. Otherwise, his minutes are likely to fall even further if he chooses to return for his junior season.
Filed to: Bobby Capobianco