That's a Wrap: Maurice Creek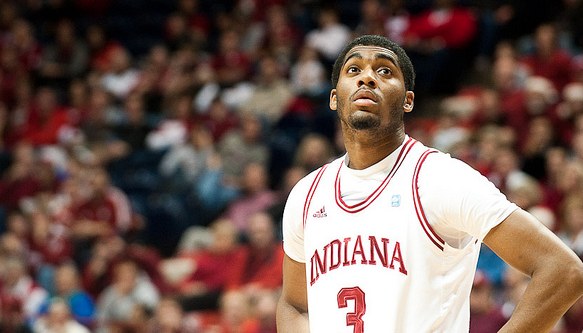 Welcome to "That's A Wrap," our attempt to make some sense of the 2010-11 season. Sit back. Relax. Grab some popcorn. Get your read on. Today: Maurice Creek.
Final Stats (18 games): 8.3 ppg, 2.4 rpg, 1.2 apg, 38.9% FG, 80.8% FT in 28.2 minutes per game
The  player about which almost everyone has an opinion is the same one most Indiana fans would probably rather not talk about.
Maurice Creek was, at one time, the next great Indiana basketball player. What unfortunately remains to be seen is if he'll ever match that potential again.
By now, I'm assuming I don't need to tell you about his freshman scoring average, or his 31 points against Kentucky in 2009. On potential ability alone, Creek will always remain a prodigious talent.
A few things ought be noted about Creek's newest knee injury setback:
It wasn't the same knee.
It wasn't a full fracture, according to Tom Crean, but rather a stress fracture that simply required too much time off for Creek to finish out what was already a pretty old season.
Assuming this injury is not so severe as the last, rehabilitation might not be as arduous a process, but obviously that's not something we would say with too much certainty.
This is a bit less than objective, but Creek hasn't seemed to be cutting the forlorn figure of a player for whom things just won't ever work out. Actually sort of the opposite. That's really, really, ridiculously opinionated and shouldn't be lent full force of merit, but it's an observation nonetheless.
Not long after Creek's later injury, I spoke with the father of a good friend, who happens to be an orthopedic surgeon. He suggested that it was possible Creek might have a condition whereby his kneecap, for whatever reason, had not developed as one piece, but rather two, increasing the danger of fractures.
"It should be compatible with him coming back," said Dr. Joseph F. Schwartz, who works in Merrillville. "If that's the condition he had, then once he heals bone to bone, he should be good."
Obviously this was just conjecture. HIPAA regulations prevent schools from releasing this kind of medical information, and Dr. Schwartz was basing his hypothesis on what we knew publicly.
But he reiterated that, with proper rehab and training, Creek would likely be able to eventually fully regain his playing fitness.
Which brings us to the other important point about Creek: If he can regain that health, he also needs to regain his strength.
What was readily apparent before his injury this season was that his leg strength — or lackthereof — was hampering his game. The lack of lift in his legs prevented Creek from being confident enough to even dunk the ball, it seemed, and his shooting motion looked affected as well.
The only thing paramount to getting that strength back has to be getting the overall health back in his knees.
Bottom line: Creek still has the potential to be a star at Indiana University. There's a trusted, if tired, maxim in English soccer: Form is temporary, class is permanent. If Creek's injuries can be overcome, his incredible talent will remain. But again, as with last offseason, the road back to full health and full strength will be a long one.
Filed to: Maurice Creek