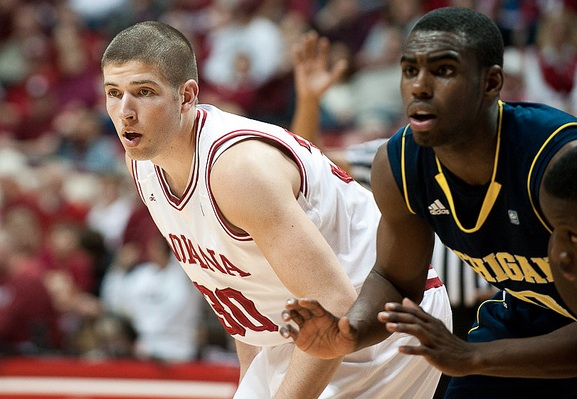 Welcome to "That's A Wrap," our attempt to make some sense of the 2010-11 season. Sit back. Relax. Grab some popcorn. Get your read on. Today: Matt Roth.
Final Stats (28 games): 3.4 ppg, 0.5 rpg, 0.3 apg, 38.5% FG, 88.9% FT in 8.2 minutes per game
After missing the majority of his sophomore season with a broken foot, Matt Roth returned for his junior season with hopes of returning to a regular role in the IU rotation.
But rather than cracking the rotation, Roth was relegated to mostly spot duty and cracked double digit minutes in just nine games. And while he showed the ability to take over a game from the perimeter as a freshman with 29 points against Ohio State, Roth doesn't seem to be the same player physically after suffering the foot injury last season in Puerto Rico.
There's no question Roth possesses the ability to contribute because of his prowess as a shooter, but the reality is that Indiana's personnel struggled to bring his strength to the forefront this season.
The Hoosiers didn't have a point guard that could consistently break down opponents off the dribble and help create openings for Roth. And they also lacked a post presence that could draw double teams and kick it out to the perimeter. When Kelvin Sampson recruited the Washington, Illinois native, it was with the understanding that he'd be surrounded with talent to help free him up for open looks. Three years later, that plan has yet to materialize with any regularity.
Another factor that was significant in the limited minutes for Roth was the arrival of Victor Oladipo and Will Sheehey. Both players are stronger in nearly every area other than from the perimeter and unfortunately for Roth, he was on the wrong end of the numbers game for minutes.
Shining moment: 12 points (4-of-5 from 3-point range) in an 84-83 overtime loss at Michigan State on January 30.
Bottom line: It's hard to imagine Roth's role increasing as a senior with Maurice Creek, Oladipo and Sheehey returning and Austin Etherington, another capable shooter with a more complete game, arriving on campus. Roth, who is set to receive his bachelor's degree in May, told reporters after Indiana's final game that he's in the process of applying to grad schools for sports administration. Whatever the future holds, Roth, along with Tom Pritchard, will be remembered for sticking with his commitment to Indiana through one of the most tumultuous times in the program's history.
Filed to: Matt Roth