That's A Wrap: Jordan Hulls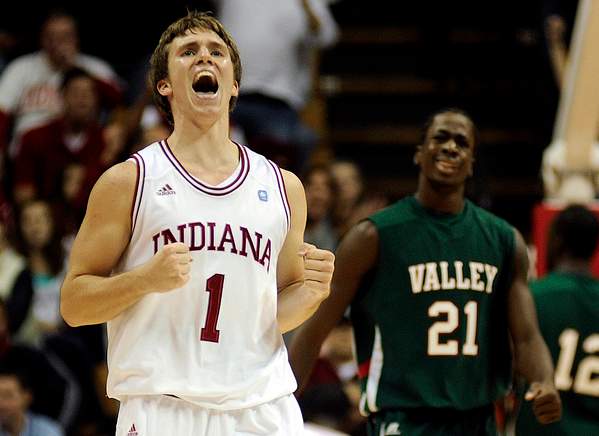 Welcome to "That's A Wrap," our attempt to make some sense of the 2010-11 season. Sit back. Relax. Grab some popcorn. Get your read on. Today: Jordan Hulls.

Final Stats (32 games): 11.0 ppg, 2.3 rpg, 2.9 apg, 48.2% FG, 91.2% FT in 31.2 minutes per game.
Improvement. The one word that best describes the sophomore season of Jordan Hulls.
His numbers were up across the board and for a while, Hulls was leading the country in effective field goal percentage, which speaks to how well the Bloomington native was shooting for a good majority of the season. It got to the point where if Hulls was open and got his feet set, the shot was going in.
Hulls also showed a better knack for creating his own shot off the dribble. Injuries to Maurice Creek and Verdell Jones, coupled with a torrid shooting pace, forced him to become more assertive offensively. It was a role that Hulls admitted was tough to embrace initially due to his unselfishness, but ultimately, he became a more well-rounded offensive player for it. By season's end, he'd developed the ability to knock down some crafty shots in the lane, something he rarely exhibited during his freshman season.
But the decision to move Hulls off the ball was not met without consequences. While it did give Hulls a chance to score more, the move put Jones at the point guard and the junior guard coughed up the ball close to three times per contest. It certainly seemed like the offense was more efficient with Hulls directing the plays. And it will be a storyline heading into next season if Indiana doesn't add point guard help this spring.
The sophomore guard also set a school record for consecutive free throws made, finishing the season with 41 straight from the charity stripe. (Pat Graham, who made 38 straight in the 1990-1991 season, previously held the record.)
Shining moment: Eighteen points, including four of five from behind the 3-point line, in Indiana's 52-49 upset over Illinois on Jan. 27 at Assembly Hall.
Bottom line: Hulls' improvement from his freshman season and work ethic offer encouragement that he might be in line for a leap into the upper echelon of Big Ten guards next season. Defensively, he is still overmatched by stronger and quicker guards and needs to improve in that area. But perhaps the most important storyline heading into the summer for Hulls is this: Will he emerge as the leader of this team and program? Reading between the lines, it's clear that Tom Crean is looking for a leader to stand above the rest, but will his teammates respond to Hulls in that role?
Filed to: Jordan Hulls