One factor stands out for this group of Hoosiers
"The most statistically extreme team behavior in the Big Ten — even more extreme than the scarcities in Wisconsin turnovers or Michigan offensive boards — is the frequency with which Indiana's opponents shoot free throws. In this year's book I took Northwestern to task pretty severely for their frequent fouling in 2010. I owe the Wildcats an apology. The 2011 Hoosiers are setting a new hacktastic standard." – John Gasaway, Basketball Prospectus, March 1, 2011
As I was browsing through the comments following Sunday's loss to Ohio State, I noticed a healthy amount of chatter regarding the officiating. Perhaps some of it was due to the fact that the Buckeyes reached the line 36 times and the Hoosiers only got there 20 times.
But having kept a close eye on the four factors since the opening game against Florida Gulf Coast, this free throw discrepancy is not a new trend: opponents have been getting to the line against Indiana at an unhealthy rate all season. Case in point: Florida Gulf Coast shot 34 free throws. In Assembly Hall.
Gasaway is spot on with his hacktastic remark: Indiana is the worst among all BCS conference teams (and just about everybody else, too, for that matter) at sending opponents to the line.
The free throw rate stat, defined for defense as opponent free throws attempted divided by opponent field goals attempted (FTA/FGA), shows the Hoosiers at 51.7 percent, 337th out of 345 Division I teams. For perspective, the next worst team in the Big Ten, Northwestern, checks in at 37.4 percent (164th in the country).
With no answer as to why Indiana was so far down the totem pole in this statistic, I went back to the KenPom archives to see if high opponent free throws rates were common with Tom Crean coached teams.
Here are the numbers: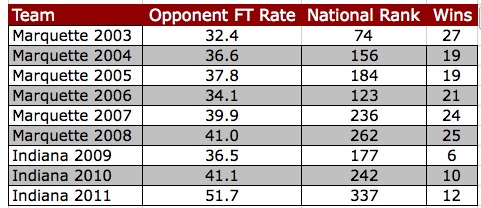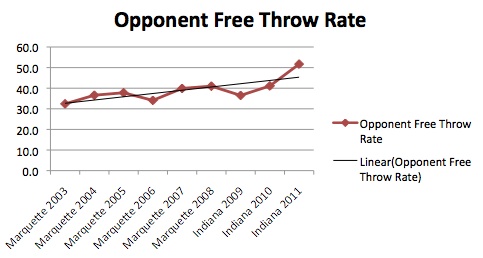 So what are we to make of this?
1. I'm not sure how significant it is, but it is worth mentioning that Crean's teams at Marquette regressed in opponent free throw rate in every season except one from 2003-2008. There will also be regression from season one to season two and from season two to season three at Indiana. The good news? It can't get any worse in season four.
2. As our friend Hugh Kellenberger pointed out over at The Hoosier Scoop, a good chunk of this problem this season is personnel related. Consider these fouls per forty minutes figures: Bobby Capobianco (10.9), Tom Pritchard (6.3), Will Sheehey (5.4), Derek Elston (5.4) and Daniel Moore (5.3). The inexperience card can be played for Sheehey, but the defense, as we've said all year, has been disappointing to say the least. Poor positioning. Poor footwork. And not nearly enough communication.
3. No team can overcome sending quality opponents to the line at such a frequent rate. Indiana's free throw rate is 37.3, which means there's a huge discrepancy on how often the Hoosiers are getting to the line in comparison to opponents. And anytime you give major conference teams the opportunity to cash in at the line, you're creating an uphill battle from the get-go. You can overcome the alarming free throw rates against the likes of Florida Gulf Coast, Mississippi Valley State and Northwestern State. Against Purdue, Ohio State or even Iowa? Not going to happen.
Filed to: Free throw rate, Hacktastic standard