Big Ten power rankings: Week 10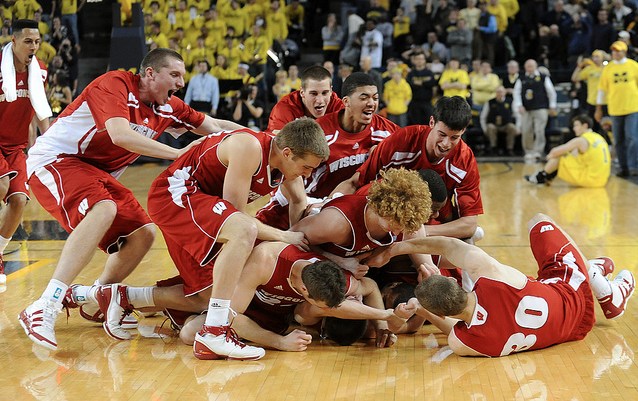 (Photo via AnnArbor.com on Flickr)
The waters have begun to settle around the Big Ten contenders and pretenders, both in terms of conference title credentials and NCAA aspirations.
Michigan might have played its way in down the stretch if not for a trademark Wisconsin bank shot to win at the buzzer. Illinois and Michigan State stand on precarious ground, but could be in with strong respective finishes. Penn State is almost surely out, and poor Minnesota — for whom nothing ever seems to go as planned — is probably done as well. *sigh Tubby Smith*
So let's rock and roll:
Inside the Hall Big Ten power rankings: Week 10

I Think This is the Final Stop at No. 11. Indiana – NR; 12-17, 3-13; 33 total points
It's easy to tell where things have gone wrong for the Hoosiers after an impressive run of play in the middle of the conference schedule. The problem is simply that it would take too much time. The incessant fouling is one glaring problem. That's a good start, but it's hardly the end of the list of this team's flaws as currently constituted.

It's The Same Old Song At No. 10: Iowa – NR; 10-18, 3-13; 30 total points

There's definitely a case to be made for a brighter future in Iowa City. We just can't really make it right now. Fear not, Hawkeyes fans: Spring football begins soon. But then maybe that's not exactly the most exciting proposition either.
Still On the NIT Bubble at No. 9. Northwestern – NR; 16-12, 6-1; 27 total points
It always comes back around to this for Northwestern, doesn't it? Bill Carmody's Big Ten finishes: 11th, seventh, 10th, tied for fifth, eighth, tied for eighth, 10th, 11th, ninth, seventh, which comes to an average of right around 8.5. So this seems about average.
The We Know Why We Are So Low No. 8. Minnesota – NR; 17-11, 6-10; 24 total points
The wheels have just plain come off for Minnesota, now losers of seven of eight. With losses to Virginia and Indiana, the bubble seems ready to burst, if it hasn't already. What's sad is how much better this team could have been, given better luck with health and off-court behavior. As it is, two wins plus a 2010-esque conference tournament showing will be the only way into the dance for the Gophers.
We're Still In It At No. 7. Michigan State – NR; 16-12, 8-8; 20 total points
The bracketologists still seem high on Sparty, likely because of the potential to still finish at 10-8 in the conference. Realistically, it might be Jeremiah Rivers that gets Tom Izzo into the Dance: Think of how damaging that home loss to Indiana would have been to Michigan State's tournament resume.
The Honorary, Sympathetic No. 6. Penn State – NR; 15-13, 8-9; 17 total points
Talor Battle might have been the best pure Big Ten scorer this cub reporter has ever seen. The Penn State senior is the only player in conference history to reach 2,000 points, 500 rebounds and 500 assists in a career, and he's three points from 2,100 in his career. And for his trouble, the tough, talented guard will get to sweat out a possible NIT berth this March.
The Least-Ever Impressive No. 5. Illinois – NR; 18-12, 8-9; 15 total points
Would it bring you comfort, Indiana fan, to know that you might wind up being the nail in Illinois' NCAA Tournament coffin? It's been suggested that Illinois might have, pound for pound, as much pure ability as any team in the conference. If that's true — and we're not saying it is, but if it is — then the season the Illini have put up is a shameful waste.
The We Were SOOO CLOSE No. 4 Michigan – NR; 18-12, 8-9; 14 total points
Josh Gasser: Public Enemy No. 1 in Ann Arbor. If not for Gasser's Brian Butch-like bankshot, Michigan probably punches its dance card with a win over Wisconsin. As it is, the Wolverines swing back onto the bubble, with Saturday afternoon's season-ending showdown with rival Michigan State representing a massive opportunity — or a real body blow — for both teams.
We've Definitely Settled at No. 3. Wisconsin – Consensus No. 10; 22-6, 12-4; 9 total points
The Big Ten might be bottom-heavy with disappointment, but the conference's showing in the top 10 is unparalleled. Three teams — all of them balanced and dangerous — occupy spots in the top 10 in both national polls, and it's really easy to see all three making a deep run into the tournament.
The Ref-Talking No. 2. Ohio State – Consensus No. 1; 28-2, 15-2; 5 total points
Purdue wins again, though if we're being honest, it's probably a dead heat for the 1-2 slotting in this poll. Each team offers a lot of appeal, the Buckeyes with their balance and inside-out game, and Purdue with its senior leaders playing like senior leaders, and All-Americans. We at Inside the Hall would be pretty disappointed if this isn't the Big Ten title game pairing.
It's Good to be No. 1 at ITH, Even If You're No. 6 Nationally No. 1. Purdue – Consensus No. 6; 25-5, 14-3; 4 total points
So the now Robbie Hummel-less 2011 class has broken the record set by last year's seniors as the most successful over the course of a career in Purdue history. The Boilermakers won 29 games last season, most of them with Hummel in the lineup. Building a new team and a new style of play around E'Twaun Moore and JaJuan Johnson with Lewis Jackson pulling the strings, it's easy to see them breaking that mark this season as well.
Filed to: ETwaun Moore, JaJuan Johnson, Jeremiah Rivers, Josh Gasser, Robbie Hummel