Inside the Hall Twitter Mailbag: February 22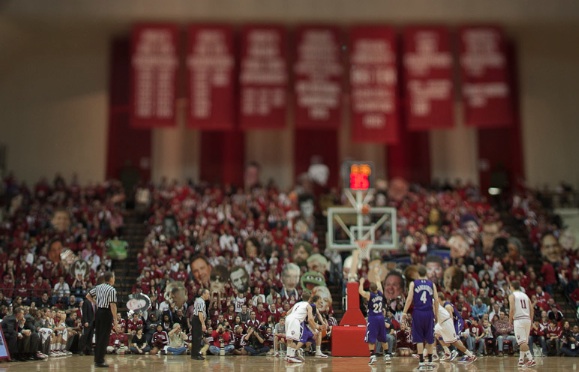 (Photo credit: Jamie Owens/J. Scott Sports)
The Inside the Hall Twitter mailbag is a weekly collection of questions tweeted to us via our Twitter account, @insidethehall. Tweet us your questions each week and we'll answer as many as we can. Now, onward …
@Garrettlawson writes: the CBI has only taken <.500 teams 5 times in its 3 years. Is CBI still possible for IU and would they accept an invite?
Alex Bozich: The College Basketball Invitational or CBI as it is more frequently called, has only featured six schools from BCS conferences. Here's the list: Cincinnati, Oregon State, St. John's, Stanford, Virginia and Washington. No Big Ten school has ever accepted an invitation to play in this third-tier tournament and my guess is several have been offered the opportunity. This event is more suited to smaller conference teams that are looking to play in a postseason of some kind. Beyond that, the perks of participation are minimal. The television exposure is minimal, I've heard that teams must pay to host games and for a prestigious program like Indiana, choosing to play in the CBI doesn't seem to make sense. If you can't qualify for the NCAA Tournament or the N.I.T., do you really deserve to play in the postseason?
@jjonas912 writes: why the 11 am tip for the illinois game?
Alex Bozich: This game (and a couple of others) were originally listed on the schedule with flexible dates and start times. This is done to give television flexibility in airing the games of their choice. On this particular weekend, it appears that CBS took Michigan State at Michigan on Saturday and Wisconsin at Ohio State on Sunday. ESPN took Purdue at Iowa on Saturday. And the Big Ten Network took the Indiana at Illinois game on Saturday and Penn State at Minnesota on Sunday. I'm not totally sure who gets to pick first, but it looks like it's CBS, then ESPN and then the Big Ten Network. From there, start times are assigned and Indiana was given a noon eastern tip. The beef Tom Crean had, as evidenced by his comments on Twitter yesterday, was with the short turnaround following a late game on Thursday at home against Wisconsin. It's a legitimate complaint, but at this point not much can be done. It is what it is.
@BrentBishop writes: is Perea better than what he looks on his HS team? Also, would Perea's athleticism compare to Blake Griffin?
Alex Bozich: I was at the Bloomington South game and yes, Perea is better than he played on Saturday. I'll get into that a bit more in a second, but to answer your second question, I would have to say no. Is Perea an exceptional athlete? Absolutely. But Blake Griffin is dominating the NBA as a rookie. He's in another league. And as good of an athlete as Perea is and could potentially become, it's just not a fair comparison. Now, back to Perea's game. La Lumiere coach Alan Huss seemed disappointed following the game that Perea wasn't able to showcase more of his talents in front of the IU faithful. The reality is that Perea's teammates didn't make much of an effort to involve him in the offense and South was able to take him completely out of the game with their physicality. Huss seemed pleased with Perea's progression over the course of this season, particularly his improving range from the perimeter, and his numbers have actually been pretty solid for La Lumiere this year. I think Saturday was a case of a well-coached, well-prepared team in Bloomington South that made an effort to take Perea and Obij Aget out of the game and succeeded in doing so.
@PaulAynilian writes: Is Crean's trip to WestVa a sign that he's not optimistic on Harris/Hollowell? and @jasonlkennedy writes: what does Maurice Aniefiok mean re: Harris/Hollowell/DSR? Impact on recruiting a big 4/solid 5?
Alex Bozich: Similar questions, so I'll try to address both. I don't view the trip to West Virginia as a sign of Crean not being optimistic about Gary Harris, Jeremy Hollowell or any other recruit. I view it as a coach that is looking for players he believes can help the program win games, which is a big part of his job. Coaches are out recruiting as much as the rules allow, so I wouldn't misread this trip for more than what it was: a chance to evaluate potential prospects. Much is made on ITH and other fan sites about the scholarship situation. And while we do publish a fancy, color-coded chart with this information, I think sometimes readers get too caught up in the numbers and worrying about situations that are beyond anyone's control besides the coaching staff. While it's true that on paper taking another player in 2011 would put Indiana over the scholarship limit in 2012, the reality is that the numbers don't have to be in line until the academic year begins in 2012. A lot of things can happen between now and that time such as players deciding to leave the program for more playing time or potentially leaving early for the NBA after next season.
Filed to: Twitter Mailbag