Cody Zeller is Indiana's 25th McDonald's All-American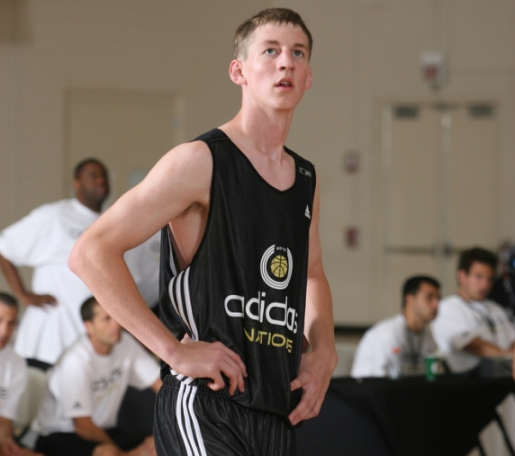 Here's the press release from IU Media Relations:
BLOOMINGTON, Ind. – Indiana men's basketball signee Cody Zeller became the 25th Hoosier to be named a McDonald's All-American, the committee announced on ESPNU on Thursday, Feb. 10, 2011. He is the first Indiana signee since Eric Gordon (2007) to earn the honor and the 14th IU Hoosier to hail from the state of Indiana.

Zeller, a 6-11, 220 pound power forward from Washington (Ind.) High School, is Tom Crean's first McDonald's All-American as a head coach. He is averaging 25.0 points, 13.7 rebounds 3.2 assists, 1.4 blocks and 1.3 steals per game. He will play on the West Team.

In 2010, he led Washington to a Class 3A state championship, averaging 20.5 points and 11.4 rebounds per game. Following the season, he was named an Indiana Junior All-Star. During his sophomore campaign, he averaged 15.0 points and 6.8 rebounds. As a freshmen, he averaged 2.4 points and 1.4 boards on another Class 3A state title team. He has been coached by Gene Miiller at Washington and also played AAU basketball for the Indiana Elite program and Mark Adams.
Zeller also led the USA 2011 squad to the adidas Nations Championship in Chicago this past summer and was invited to the NBA?Top 100 camp.

He is the third Zeller to be named a McDonald's All-American, following in the footsteps of his two older brothers – Luke (2005) and Tyler (2008).

The 2011 McDonald's All-America game will be held at the United Center in Chicago on Wednesday, March 30 at 10 p.m. ET and will be aired on ESPN.

IU's All-Time List of McDonald's All-Americans
Tom Baker – 1977
Ray Tolbert – 1977
Landon Turner – 1978
Isiah Thomas – 1979
John Flowers – 1981
Daryl Thomas – 1983
Delray Brooks – 1984
Ricky Calloway – 1985
Jay Edwards – 1987
Eric Anderson – 1988
Greg Graham – 1989
Pat Graham – 1989
Damon Bailey – 1990
Alan Henderson – 1991
Sherron Wilkerson – 1993
Andrae Patterson – 1994
Neil Reed – 1994
Jason Collier – 1996
Luke Recker – 1997
Dane Fife – 1998
Jared Jeffries – 2000
Bracey Wright – 2002
D.J. White – 2004
Eric Gordon – 2007
Cody Zeller – 2011
Filed to: Cody Zeller