Inside the Hall Twitter Mailbag: February 4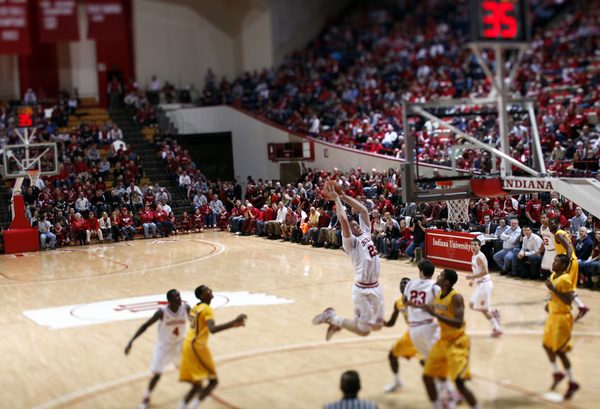 (Photo via Peter Stevenson on TwitPic)
The Inside the Hall Twitter mailbag is a weekly collection of questions tweeted to us via our Twitter account, @insidethehall. Tweet us your questions each week and we'll answer as many as we can. Now, onward …
@johnnymackel writes: Heard conflicting answers on NIT selection requirements. Specifically having an above .500 record. What's the official reqs?
Alex Bozich: This was a requirement prior to the NCAA's purchase of the tournament back in August of 2005, but teams are no longer required to have a .500 record to be selected. With that said, no team with a sub .500 record has been selected to the field since this change took place. So while it's no longer a written rule, it's now apparently an unwritten rule. If you're interested, you can read more on the NIT selection criteria in this AP story from early 2006 here.
@nicholasemmons writes: n.i.t. At all a possibility with 3 more wins and a strong showing in big 10 tournament?
Alex Bozich: Three more wins would put the Hoosiers at 15-16 heading into the Big Ten Tournament. Which means they'd need to win two games, in the Big Ten Tournament at Conseco Fieldhouse in Indianapolis, to finish with a .500 record. Not an impossible feat, but not something I would count on, either. Four more regular season wins would lock up a .500 record. The remaining schedule is rough, but Indiana has proven it can play with and beat anybody at Assembly Hall. Of the eight games left, the four home games (Iowa, Northwestern, Purdue, Wisconsin) plus the trip to Ann Arbor offer the best opportunities for wins. So yes, the NIT is a possibility, but Saturday's game is a must-win if it's going to happen.
@zachgropper writes: with so many players in the big 10 graduating, how high can the Hoosier fly next season in the conference?
Alex Bozich: First, let's examine the key contributors graduating from each Big Ten squad, sans IU:
Illinois: Bill Cole, Demetri McCamey, Mike Davis, Mike Tisdale
Iowa: Jarryd Cole
Michigan: No players graduating
Michigan State: Durrell Summers, Kalin Lucas
Minnesota: Al Nolen, Blake Hoffarber
Nebraska: Lance Jeter
Northwestern: Michael Thompson
Ohio State: Dallas Lauderdale, David Lighty, Jon Diebler
Penn State: David Jackson, Jeff Brooks, Talor Battle
Purdue: E'Twaun Moore, JaJuan Johnson
Wisconsin: Jon Leuer, Keaton Nakivil, Tim Jarmusz
You also figure Ohio State will lose Jared Sullinger to the NBA. And maybe guys like Darius Morris, Deshaun Thomas, Jereme Richmond, Rodney Williams and William Buford (all are included in Chad Ford's NBA Draft Top 100 on ESPN.com) will consider testing the waters.
The jump up the Big Ten standings could be significant next season for Indiana. The league's two best teams Ohio State (assuming Sullinger's departure) and Purdue, will be significantly depleted. Illinois, Penn State and Wisconsin lose quite a bit, too. It's difficult to make a definitive statement this far in advance without seeing next season's rosters, but a top five finish in the conference seems like a reasonable expectation.
@BrentBishop writes: who do u see that can prob replace Rivers next year as our lockdown defender?
Alex Bozich: Replacing a player like Jeremiah Rivers — who has the experience of playing in a Final Four from his days at Georgetown and is a very capable defender on the ball — will be tough for Indiana. His value to this team was never more evident than in the upset win over Illinois, where he smothered Demetri McCamey and essentially took him out of the game. Victor Oladipo probably has the best tools (length and athleticism) to become a great defender as his career moves along, but positioning and learning the tendencies of your opponent is a big part of the equation, too.
@keyganspencer writes: do you think the recent play by #iubb is more about this group coming together and fighting to prove something or maturity
Alex Bozich: I believe it's more about carrying over pre-game preparation and also how this team performs in practice into the games. That's something both Tom Crean and the players have talked about all season and it's something Crean was quick to point out after this most recent win over Minnesota. I don't togetherness was an issue with this team as all of the guys seem to genuinely like and care for one another. Also, don't discount all of the hard fought losses this team took (in Vegas, at Minnesota, at Wisconsin) as learning experiences that ultimately may be a huge factor in turning the corner.
@ClintonRMills writes: Any news on Wannah Bail? I haven't heard him mentioned in quite some time.
Alex Bozich: The last news on Bail and Indiana that I'm aware of was that the Hoosier staff went and watched an open gym last fall. I'm not ready to close the book completely on Bail, but with Hanner Perea committed and the pursuit of Jeremy Hollowell in full swing, I'd be shocked if he were anything more than a plan B at this point despite his immense talent.
@stevenmcilwain writes: what is the status of Rivers for Saturday?
Alex Bozich: This will be a topic that I'm sure will be brought up later today at media availability, but  Crean didn't speak as if the injury was serious following the win on Wednesday night. Since that time, we've heard nothing that would lead us to believe that Rivers will miss any time and I would expect him to play on Saturday.
Filed to: Twitter Mailbag