Big Ten power rankings: Week 6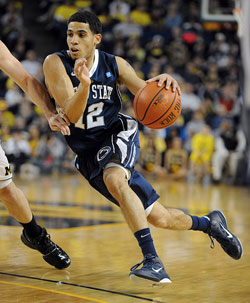 (Photo credit: AnnArbor.com via Flickr)
So, in case you were asleep or out of the country all week, the Big Ten fell down. Penn State beat Wisconsin. Indiana beat Illinois. Northwestern came within a whisker (see what I did there?) of beating Ohio State.
In honor of this new, chic, completely unintelligible Big Ten, we bring you rankings that are modeled likewise.
Inside the Hall Big Ten power rankings: Week 6

Very No. 11. Iowa – Definitely not ranked; 8-13, 1-8; 33 total points
Oh, to be young and in Iowa City when it's freezing cold and there's no good basketball to be found within a hundred miles. Beating Indiana was nice, but then the Hoosiers turned around and smacked a Top 25 team. Aside from beating the Hoosiers, what's the best Iowa's done this year? Northern Iowa? Alabama?
The closest No. 10 has ever been to No. 9. Indiana – NR; 11-11, 2-7; 29 total points

Oh but how close they were. A week marked by wins over Illinois and Michigan State would have had Hoosier fans flashing back to the old days. Still, there are positives, namely that someone or something lit a fire under Christian Watford. The sophomore is averaging 18.5 points and 6.5 rebounds per game over his last six.
No. 9 because we beat State. Michigan – NR; 13-9, 3-6; 28 total points
It was a good week to be a Wolverine, with wins at Michigan State and at home to Iowa. Darius Morris ripped off a triple-double, further cementing is status as likely the conference most improved player (all respect to Jordan Hulls).
Boring 8. Northwestern – NR; 13-8, 3-7; 24 total points
Stuck in neutral much? Northwestern is, at least in our No. 8 spot. The problem is that the Wildcats are slowly getting reeled in by the teams behind them. Beating Ohio State without John Shurna would have been a gargantuan feat. Instead, it was another reminder of how fragile life can be as a Northwestern basketball fan.
We used to be No. 7 in the country, or thereabouts No. 7. Michigan State – NR anymore; 13-8, 5-4; 19 total points
A week ago, Michigan State was 13-6, No. 25 in one poll and on the fringe of another. One bad home loss, one bad home win and one Korie Lucious departure later, they aren't even receiving votes. That is definitely all.
The Bruce Weber Memorial 6. Illinois – Receiving votes AP/No. 24 Coaches; 14-7, 4-4; 17 total points
Perhaps it says something about the respect for Tom Crean's rebuilding project at Indiana that the Illini did not go the way of the Spartans and stayed in and around the Top 25. But it's way too easy for Demetri McCamey to disappear in games both large (Ohio State) and not-so-large (Indiana), and don't look now, but the Illini have lost four of five.
Nobody thought we'd be at No. 5. Penn State – Receiving votes (yes, really) in AP; 12-8, 5-4; 16 total points
Might as well make this No. 12 for Talor Battle, but the Nits have been doing work. Consider not just their wins (Illinois, Wisconsin), but also two losses by a combined four points at Ohio State and at Purdue. They get a reeling Illinois team Tuesday in a game that will say a lot about both teams' NCAA Tournament credentials.
We're thrilled to be at No. 4. Minnesota – No. 18 AP/No. 20 Coaches; 16-5, 5-4; 13 total points
There was a time when it looked like Tubby Smith might run out of able bodies. Now he just appears capable of swimming in a league where others are sinking rapidly. The Gophers only have two teams currently ranked (Ohio State, Illinois) left on their regular-season schedule. But in this league, right now, after last week, what does that mean?
Just this No. 3. Wisconsin – No. 19 AP/No. 18 Coaches; 15-5, 5-3; 10 total points
There's no bigger fan of Penn State right now than the Badgers. If the Nittany Lions keep winning, that road loss looks better and better. Josh Gasser's triple-double would look a lot better if he hadn't gone right back to being an average college freshman — 1-of-4, two points, three rebounds, two assists — against Penn State.
The posturing No. 2.  Purdue – No. 11 AP/No. 10 Coaches; 18-4, 7-2; 6 total points
Here's where, realistically, the league basically separates the good from the great. The shellacking Purdue took from Ohio State last week aside, the Boilermakers are the only team set up to challenge Ohio State for any piece of the regular-season crown. Taking that shellacking into consideration, even they probably won't do it.
The unanimous No. 1. Ohio State – Consensus No. 1; 22-0, 9-0; 3 total points
Yes, the Buckeyes almost left Evanston red-faced during an absolutely mental weekend in college basketball. But, unlike Duke or UConn or Villanova, they did not lose, and now have literally every first-place vote available in both the AP and Coaches polls.
And the Inside the Hall power rankings. But you've known that for some time, haven't you?
Filed to: Big Ten Power Rankings