Crean: Creek will undergo surgery on Thursday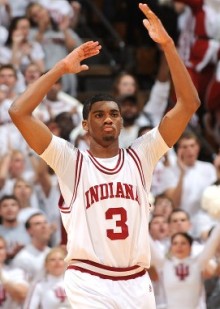 In a series of tweets posted early on Tuesday evening, Indiana coach Tom Crean announced that sophomore guard Maurice Creek will have surgery on the stress fracture in his right patella on Thursday.
Here's the information, pulled directly from Crean's Twitter account:
Just finished a excellent practice. Maurice was in a positive spirit today. I am so proud of him for how he is dealing with all of this.

Maurice is going to have surgery to repair the stress fracture to his right patella this coming Thursday.

If this young man and his family can believe the the unknown plan that God has for us, we all can. We can never rush what God has in store

For us as people. There have been alot of prayers said for Maurice and support given and I hope you will all continue to do that. Thank you.
Earlier today, The Hoosier Scoop published a post with an opinion from an orthopedist who suggested that it was unlikely that Creek would require surgery and could possibly return before the end of the season. (The orthopedist, in fairness, did not have any access to medical records.) But with this announcement, it's probably safe to say Creek is done for the year.
Crean did not specify any further details on the type of procedure Creek would be having or a recovery time. And due to student privacy laws, further details on Creek's surgery are not likely to be provided.
Filed to: Maurice Creek, Tom Crean