Tough injury for Hoosiers is tougher for Creek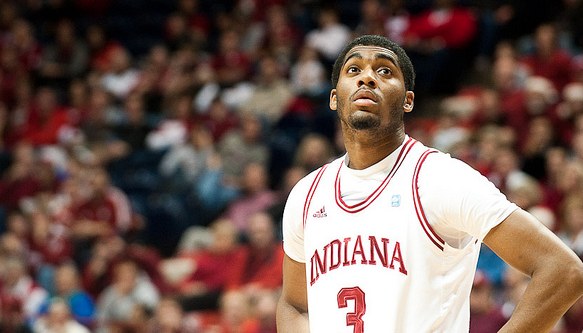 (Photo credit: Jamie Owens)
Maurice Creek is injured again.
They are the words nobody remotely interested in Indiana basketball and its success wanted to hear ever, and certainly not this season.
Indeed, it was a moment of slight irony that this stress fracture, to Creek's right patella (kneecap), came in close to the same way, in the same place, as they full fracture to his left patella last season, coming down awkwardly after a layup. And so, here we are again, circling around a major injury announcement involving a player that, as much as any, has become the face of Indiana.
It's hard, unlike the last time, to feel like this development is even as bad for Indiana as it is for Creek.
Look, there's the obvious argument that Creek wasn't so pivotal a player this year as last, primarily because he's not scoring so much as he was (which he's not).
Creek is averaging 8.3 points per game — just one-tenth of a percentage point more than half of his scoring average through 12 games last season — on 38.9 percent shooting. In six more games this season to date, he's attempted as many field goals (131) this year as he did over those 12 games last season. And he's been in and out of the starting lineup recently.
In fairness to Creek, he still helps Indiana in ways others could not, particularly with ball handling, and Crean said the news of his injury was saddening, because the coach thought his sophomore shooting guard might soon turn a corner offensively.
"It just felt like it was really, really close to breaking for him," Crean said at his radio show Monday night, according to Herald-Times beat writer Dustin Dopirak, who live-tweeted from the event.
But it's hard to see how it hurts anyone more than it hurts Creek himself.
Here was a player Indiana has not had in some time. Creek had swagger.
Not the kind that drives one to spend an inordinate amount of time in front of a mirror, or convinces a person he or she is just generally incredible.
This was a better brand, a finer vintage if you will. Coaches will rave about a player's "will to win" or "competitive fire." They're generally the same thing — an overall attitude that permeates every action, every moment spent chasing as much success as one can possibly get their hands on.
Creek didn't care who he faced or what the odds, he had a fire that was only stoked by winning. It's rare to find someone as skilled and as driven as Creek, and it was easy to envision three or four years of Creek as the posterchild of Indiana basketball.
Now, that's all up in the air. Creek lost more than half a season to an injury he had yet to have been fully recovered from. Crean alluded to the moments where we've seen the old Maurice Creek, slashing across the lane, driving with confidence and, once or twice, finding his once-deadly 3-point shot.
All evidence suggested Creek worked hard in his rehabilitation too, pushing himself as much as he could to get back with as much swiftness and strength as possible. Returns this year have been mixed, but it's generally acknowledged that his was a catastrophic injury, one that would need perhaps more than one year to heal.
The problem is, things aren't nearly so cut-and-dry now.
Creek is out "indefinitely," which is hard to quantify with 13 games plus the Big Ten Tournament and perhaps postseason play left on the schedule. It's in his other knee, which could either be a good thing (no re-aggravation) or symptomatic of a larger problem.
It also leaves Creek in the unenviable position of having to face yet another frustrating period of rest and mending, one whose duration is apparently murky at best.
But there's also a greater issue at stake here. Twelve months ago, Indiana basketball, as much as it could have been at the time, was settled. Even with Creek's injury, there was plenty of time for him to rehabilitate, recover and reassert himself as the clear front man for a team and a program as it moved into the next phase of Tom Crean's rebuilding process. As this season played out, and it became clear Creek's renaissance would not be so smooth, doubt became cast on that aforementioned scenario.
This injury defeats it altogether.
There's no blueprint moving forward from now. Is Maurice Creek ever going to be the high-scoring, program-turning player he once resembled? There's no way to know. Are these injuries independent, or linked by some sort of greater physical issue? That's something only an orthopedist, and more importantly time, can answer.
But time is the one thing Creek does not have. If this injury requires an extended layoff and rehabilitation, then he will have exhausted two years of eligibility for 30 total games. When he comes back, he will for a second time have to ingratiate himself with a team that has had to, by necessity, learn to live without him.
Next year, Cody Zeller comes to Indiana. The year after that, he'll be joined by a bevy of heralded recruits, a list that's long and could possibly get longer.
Indiana will be entering a new generation, one many believe will eventually vault the program back to its former glory.
As rough as this season has been for him, it was still fairly easy to see Creek in that future.
Now, no one can be sure.
Filed to: Maurice Creek