Win proves again that it's all about defense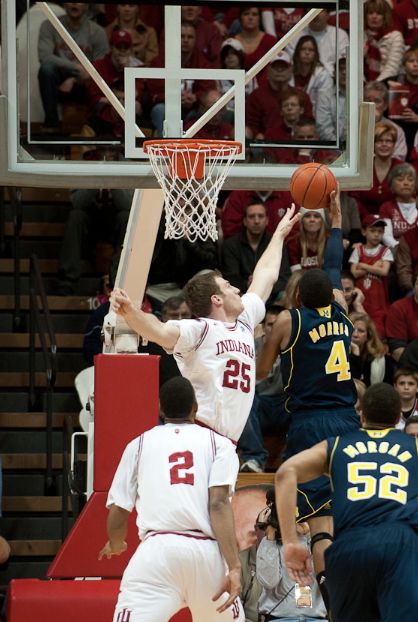 BLOOMINGTON — Execution is the common theme that runs through all of basketball. Everything a team wants to do, every goal it wants to achieve, however small or large, specific or grandiose, will be determined by its ability to execute.
Throughout the build-up to this season, defense was the word on the lips of everyone inside the Indiana program. It was, they said, the primary focus of the Hoosiers' offseason work, and the peg upon which they would hang their basketballing hat this winter, a prediction that played out favorably until tougher opponents started appearing on the schedule.
Over their recent four-game losing streak, the Hoosiers were allowing a rather putrid 76.5 points per contest. And to skirt the border of an awful cliche, their worst was last — a 93-81 loss at Northwestern, during which the Wildcats tortured Indiana in transition and in the halfcourt in almost equal measure.
Saturday night could not have been more different.
From Michigan's very first possession, Indiana's gameplan against Michigan was laid clear — take away Darius Morris' ability to drive his right and close down his options on the kickout, primarily Zack Novak. That plan was executed (buzz word) precisely.
Verdell Jones, playing straight up for much of the game on Morris, played him hard to the Michigan guard's right, practically inviting him to drive to the left. It was an invitation Morris rarely accepted. When he did, he looked uncomfortable, and on the drives that made it to the basket, he still switched to his right hand to try a layup, costing him at least one bucket.
Novak was so far removed from the game it was hard to tell when he was on the floor. The sharpshooter hit a barren 2-of-6 from the field, and 1-of-5 from behind the arc. Jeremiah Rivers in particular shadowed the junior from Chesterton to fine effect, closing him out of a first half that ended with Michigan having scored just 15 points, the lowest halftime total for an Big Ten opponent since 2002.
So visibly frustrated was Novak that even when he got a handful of open looks in the second half, he missed them badly, and at one point was so flustered by what he thought was an uncalled foul that he appeared to kick out at Maurice Creek as Creek retreated back down the floor.
To its credit, Michigan made a bevy of small runs in the second half, cutting the lead to 11 at one point. But Indiana's offense also found its groove early and never let up, and the Wolverines simply had no answer for the rotating combination of Watford, Jones and Jordan Hulls, whose late threes Michigan coach John Beilein called "daggers."
By game's end, the Hoosiers' offensive numbers were impressive — 67.4 percent shooting, 6-of-14 from 3-point range, 16-of-20 from the line. But the game started with excellent defensive execution, completely removing a young Michigan team from anything resembling its comfort zone.
The offense was strong, and several individual performances impressive. But Indiana's ability to rediscover its long-absent defensive prowess and, more importantly, execute its defensive gameplan were paramount in the Hoosiers' first Big Ten win in 2011.
(Photo credit: Jamie Owens)
Filed to: Christian Watford, Jeremiah Rivers, Jordan Hulls, Verdell Jones