Know Thy Opponent: Michigan Wolverines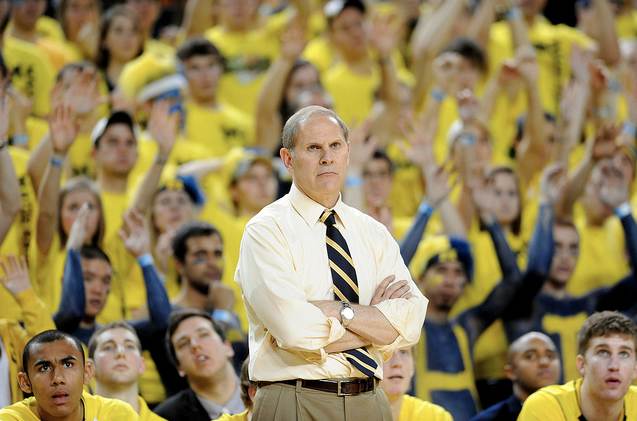 (Photo credit: AnnArbor.com)
To help us with some perspective on Saturday's opponent at Assembly Hall, the Michigan Wolverines, we reached out to Dylan Burkhardt of UMHoops.com with a series of five questions. Our Q & A exchange, via e-mail, follows. (Note: Zach and I also answered some IU questions over at UMHoops, which you can read here.)
Darius Morris looks like a totally different player this season. What's the biggest reason for his rise to one of the league's elite point guards?
There were high expectations for Darius Morris last season and for the most part he fell flat on his face. He was tentative offensively, turned the ball over far too often, and couldn't hit a jump shot to save his life. This year, as you say, Morris is a completely different player. Just look at the numbers:
2009-10: 24 minutes, 4 points, 41 percent shooting, 3 assists, 2 rebounds
2010-11: 34 minutes, 15 points, 51 percent shooting, 7 assists, 4 rebounds
Morris has taken ownership of this year's squad and, on a team devoid of playmakers, has created offense not just for himself but others as well. In conference play, Morris has accounted for over half of Michigan's made field goals either by making them himself or assisting a teammate.
Darius has always had talent but now he is starting to adjust to the college game. He's tall enough (6-foot-4) to shoot over most and crafty enough to get off an array of different shots in the paint and is shooting 56 percent on two point shots.
That's not to say there's no more room for improvement. Morris still throws away a few too many possessions by trying to do too much, turning the ball over, or taking bad shots. He also still has a ways to go on his perimeter jumpshot, as he's shooting just 28% from 3-point range.
Let's talk a little bit about the two Hoosiers on the roster: Zack Novak and Stu Douglass, who are both juniors. How have their roles evolved since arriving in Ann Arbor?
Douglass and Novak are the only players left from Michigan's NCAA Tournament team in 2009 and both play a key role on this year's team. Now they are juniors and the only upperclassmen on Michigan's roster.
Zack Novak, at 6-foot-4, is Michigan's starting two guard but he is also the backup power forward. Novak has always been a passionate player but this year it is clear that he is the heart and soul of the team. Novak is averaging nine points and seven rebounds per game while shooting 38 percent from 3-point range. He is a great rebounder but will also make all the hustle plays whether it's taking charges, diving for loose balls, or going toe to toe with the opposing team's strongest player. Zack was struggling with his jumpshot earlier this season but he's shooting 59 percent on threes over Michigan's last four games.
Stu Douglass is a more traditional shooting guard that thrives working off the ball and shooting off of curls and screens. He doesn't start for the Wolverines but is third on the team in minutes per game. Contrary to Novak, Douglass has watched his three point shooting percentage plummet over the last several weeks. He is shooting 39 percent from three for the year but has missed his last ten 3-point attempts over the last three games.
To win games, Michigan needs at least one of the two juniors to be shooting the ball well from the perimeter. If they both are on their game offensively, Michigan becomes significantly more difficult to guard.
I know quite a bit was expected out of two freshmen, Tim Hardaway Jr. and Evan Smotrycz. But quietly, the redshirt freshman big man Jordan Morgan (8.4 ppg, 6.1 rpg) has put together a solid season to date. Has Morgan been a surprise or was John Beilein expecting this type of production?
Michigan fans were terrified before the season began because the only players on the roster over 6-foot-4 were freshmen. Luckily Jordan Morgan has eased at least some of these concerns with his surprisingly strong play. Morgan was a relatively unheralded big man that picked up an early offer from Michigan and jumped on it. Michigan fans didn't know what to expect from the 6-foot-8, 240-pounder after he suffered shoulder and knee injuries during his first year on campus which forced a medical redshirt.
The best word to describe Morgan's game is opportunistic. He doesn't have much of a back to the basket game, and he isn't an electric athlete, so he's not going to create much offense for himself. He does seem to have a nose for the ball and he just seems to find a way to make plays. Morgan does a great job playing off of his roommate, Darius Morris, who consistently finds him on the pick and roll. He shoots 59 percent on 2-point attempts because the majority of his baskets are layups around the hoop.
Overall, his play has been a pleasant surprise and he gives Michigan solid if unspectacular minutes on the block.
Michigan has struggled in getting to the line this season, but on the other hand, Indiana has been sending opponents to the line at the highest rate in the conference. Something has to give here on Saturday. What do you think it'll be?
It's always tough to judge who is worse at something. As you said, Michigan rarely gets to the line and Indiana constantly fouls. This could turn out to be the key in the game as Indiana's defense becomes significantly better without the fouls and Michigan's offense becomes significantly better if it can get to the free throw line. Michigan does a good job of making free throws once it gets to the line but there are only a couple players that have the ability to attack the rim and draw fouls. The key will be Darius Morris and Tim Hardaway Jr. being aggressive and attacking Indiana's defense rather than settling for perimeter jumpers.
The Wolverines are coming off of a pair of tough losses (by 7 to Kansas in OT on Sunday and by 4 to Ohio State on Wednesday). Is this team at the point where they're capable of bouncing back quickly and winning one on the road?
With just two road games to date, this one is a bit of a wild card at best. Michigan went to Clemson coming off a pair of losses and picked up a Big Ten/ACC Challenge victory back in November. However, Michigan held a halftime lead up in Madison before unraveling in the second half and losing by 16.
It remains to be seen how this young team (the youngest of any major conference school) will react to a hostile environment like Assembly Hall. Michigan fans know all too well that the Wolverines have won just three games at Indiana since 1986. One of those was two years ago and it took Michigan a 20-point comeback plus overtime to beat an Indiana team that just won one Big Ten game that season. This team has responded well to adversity but they are learning on the job so we never quite know what to expect.
Bonus Question: bearish or bullish on the hiring of Brady Hoke?
I'll go with cautiously optimistic. I'm not an expert but I think he can be successful. Almost every former player seems to support him and more importantly the kids on the current team seem to really like him. Personally I'm more disappointed with the way the coaching search appeared to ignore any candidate that hadn't already been declared a "Michigan man".
Filed to: Michigan Wolverines