The Minute After: Northwestern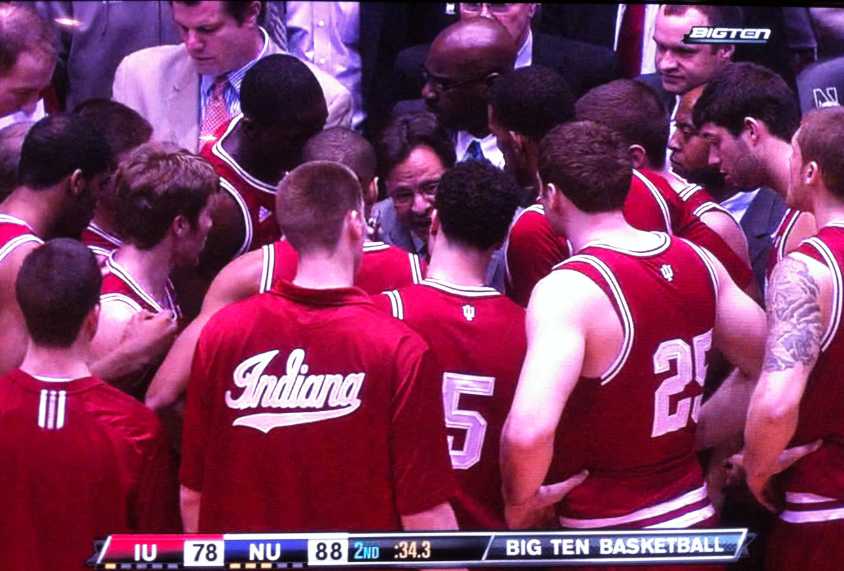 Thoughts on a 93-81 loss at Welsh-Ryan Arena:
Don't be fooled by the final score, ladies and gents: This game was not that close. And in many ways, it may have been the worst effort the Hoosiers have given all season, which is not particularly encouraging given the fact it was game No. 17 on the schedule.
Instead of boring you with statistics and over-analyzing tonight's contest, I'm just going to hit you with the facts: This team is in a major, major funk.
Major deficiencies, like poor communication on defense and lack of a post presence, that Indiana was able to mask against a weak non-conference schedule, are coming to the forefront in a big way.
But perhaps more concerning is that Indiana's effort and execution is far too inconsistent to compete at the highest level of college basketball.
Defensively, the Hoosiers are still consistently getting beat off the dribble for easy buckets. And they're continuing to allow excellent 3-pointer shooters (tonight it was Jon Shurna who hit 4-of-5 from behind the arc) to have wide open looks at the basket. The communication and aggressiveness are still not there, either.
Offensively, the lack of ball movement and ill-advised shots have become frustrating to watch. This group of Hoosiers might not have the personnel to execute the dribble-drive offense to perfection, but they do have the personnel to produce crisp ball movement and set some screens. Neither of those things are happening on a consistent basis.
And so here we are, seventeen games into Tom Crean's third season at Indiana and there are more questions than answers right now on the direction of this team. Will the ship reverse course and begin to head in the right direction? Or will the losses continue to pile up? We'll find out in five days when IU returns home for a Saturday night meeting with Michigan.
A few game-specific notes:
+ Crean summed it up pretty clearly in his postgame comments: "We did not play disciplined at all on the weak side." He also added this: "We played extremely immature in the first half. Extremely immature."
+ Will Sheehey turned in a solid offensive effort with nine points (4-of-5 shooting), but fouled out in just twelve minutes. A couple of the fouls on Sheehey were cheap, but he was a tad aggressive in the use of his hands. Nonetheless, his energy and effort continues to be a bright spot.
+ Derek Elston was whistled for an intentional foul for attempting a trip of Alex Marcotullio. Replays showed that Elston clearly stuck his foot out on purpose. Frustrated or not, that was definitely a cheap move by Elston.
+ Christian Watford was benched to start the second half (0-for-6 in the first half) and responded well in the final twenty minutes. Watford's effort on defense and on the glass were clearly not there early, but he did hit 6-of-7 shots in the second half and finished with 17 points and seven rebounds. Most of those points, however, came with the game already seemingly out of reach.
+ Jeremiah Rivers got out of the gate nicely by scoring IU's first five points. The senior guard finished with seven points, five rebounds, three assists and just one turnover. His return to the starting lineup has been much deserved.
+ Nine assists and just two turnovers for Verdell Jones, but he struggled mightily from the field (3-of-13) and finished with 10 points.
+ Jordan Hulls, who was featured in "The Journey" on the Big Ten Network after the game, still didn't attempt enough shots, but did manage to get to the line eight times, where he knocked down all of his attempts.
That's all from here, folks. See you Monday. Enjoy the last few hours of your weekend.
Filed to: Northwestern Wildcats