Scouting Report: 2011 forward Walter Pitchford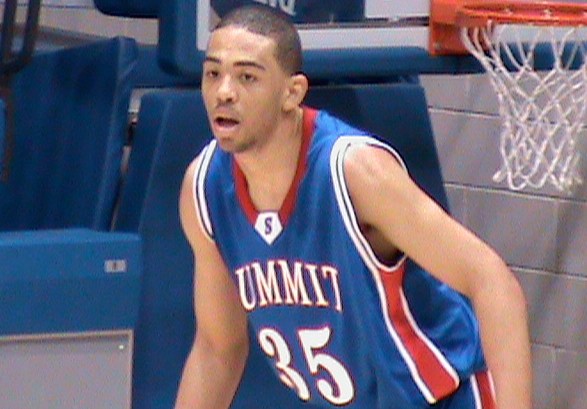 Joe Eberhardt is a high school sports blogger and regular contributor to Inside the Hall. You can follow him on twitter at @IndyHSHoops and read his blog, IndyHSHoops.com.
Walter Pitchford played twice this weekend in a tournament at Vincennes University. On Friday night, Pitchford scored 12 points and grabbed eight rebounds in a game against Iowa Western CC, and Saturday night he scored 17 points and grabbed eight rebounds. Here is a quick scouting report on Pitchford along with a quick highlight video of the 6-9 forward.
Most Impressive: The two things that jump out about Pitchford are his length and explosiveness as a leaper. The 6-9 forward is able to finish plays above the rim on offense and elevate to block shots on the defensive end. Athleticism and length help Pitchford on the glass, allowing him to rise above opponents for a rebounding advantage. He uses the offensive glass to finish plays and create second chance opportunities for himself and teammates. Pitchford also shoots the ball well for a big man and is able to hit shots out past the 3-point line. He has a quick release allowing him to elevate over defenders and get off shots in traffic.
Needs Improvement: Pitchford's biggest room for improvement is adding strength to his slender frame. Added bulk would help Pitchford as a defender and allow him an easier transition to the college game. Shot selection is also an area where Pitchford could improve by limiting his jump shots and not falling in love with the perimeter. Pitchford is a great shooter for his size, but he can drift out to the perimeter and settle for jump shots for extended periods of time. He could also stand to add some low post moves to his offensive repertoire, utilizing his nice touch to score in the paint. His ball handling could also be improved upon, which would allow him to create further mismatches.
Conclusion: Pitchford is a player with great shooting touch and athleticism for his size. He is a tough player to defend because of his ability to knock down shots from the perimeter. Defensively, Pitchford is fundamentally solid and could use his length and athleticism to be a great collegiate defender. Pitchford needs to get stronger and look to score more down low, but has the base to be a skilled power forward at the next level.
In his Words: "I give it my all when I am on the court. I can do things at my size that other guys cannot. I can shoot the ball, I can put the ball on the floor, and I can play above the rim."

Video:
Filed to: Walter Pitchford