Jones' struggles don't outweigh his benefit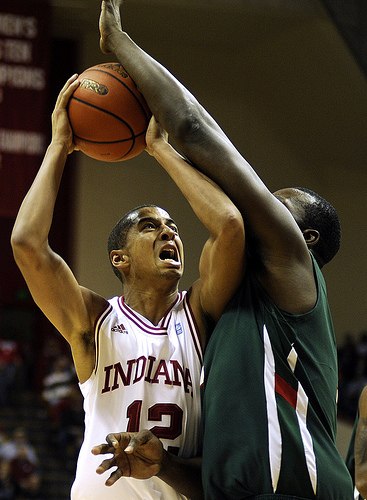 It was, for the briefest of moments, hard to recognize Verdell Jones through the lens of my television Tuesday night. He'd shaved off what was left of his usually short hair, opting for an all-bald look that made him unique on his team, and hard to place.
But Jones has become, over the last three seasons, as familiar a sight as any in this Indiana program. He's started more games for Tom Crean than any other player, emerged at the end of his freshman year as the brightest spot in an otherwise bleak season and eventually took on a greater role as one of the Hoosiers' experienced, vocal leaders, and one of its go-to scorers.
I mention all of this not because I think you don't remember, but to illustrate partially a point.
It has become chic to criticize Jones – one of Indiana's primary ball handlers – for his sloppy offensive work, coupled with what frankly boils down to fairly average defense. Indeed, there are some whose shouting has almost seemed to hold Jones up as the paradigm for what ails IU basketball today, and I have heard on numerous occasions that Indiana should bench the junior.
I get it. I really do. I'm accused of defending Jones too much for my own good. But the argument for significantly trimming his playing time is folly, for two reasons.
First, and maybe most important, I'll ask the same thing I ask everyone who argues this point: If not Jones, then who?
Jeremiah Rivers? It was Rivers whose turnover struggles last year forced him to the bench this fall, though tough defensive play has worked him back into the rotation.
Jordan Hulls? Hulls doesn't take enough shots in the offense as is, and he's undersized to carry such a big load alone.
Maurice Creek? Still not 100 percent, clearly, though his ball-handling has been for the most part fine.
Victor Oladipo or Will Sheehey? Child please.
Playing Jones while he works through his turnover problems in particular is a necessary evil.
Let's not forget that, while he's never been stellar in holding onto the ball, he's never been this bad either. I'm not expecting the young man to turn into Magic Johnson by March, but there's an even chance that at least some of his problems are mental, and can only be worked out by time.
Also, there's not much choice.
The second part of the argument is he's still one of Indiana's leading scorers. Tuesday's game at Minnesota (one of Jones' high-school suitors, actually) was a fine example of the Conundrum of Verdell.
Four turnovers hurt his team's cause to be sure, and it's hardly praise to point out that that number is actually above his season average, which used to itself be north of four per game.
But he was also 6-of-11 shooting in a rather Jones-esque performance. His midrange jumper was flowing, his angles were finding him holes in the Gophers' defense and he was generally doing what he does best on the offensive end of the floor – finding and taking his shots, scoring 13 points on the night.
With Christian Watford suddenly misfiring, with Creek still struggling for consistency, with Hulls trying to find more shots in the offense, Indiana needs the regular scoring production Jones provides (he's averaging better than 12 points in three Big Ten games thus far).
Do his turnovers hurt Indiana? Absolutely. Should he be reaching a point in his career when he needs to start playing with more consistency? Probably.
But when you consider what he brings in experience, in scoring and even possibly in leadership, Indiana cannot afford to be without Verdell Jones. It simply cannot.
(Photo credit: James Brosher)
Filed to: Verdell Jones