Crean says Creek's struggles are both mental and physical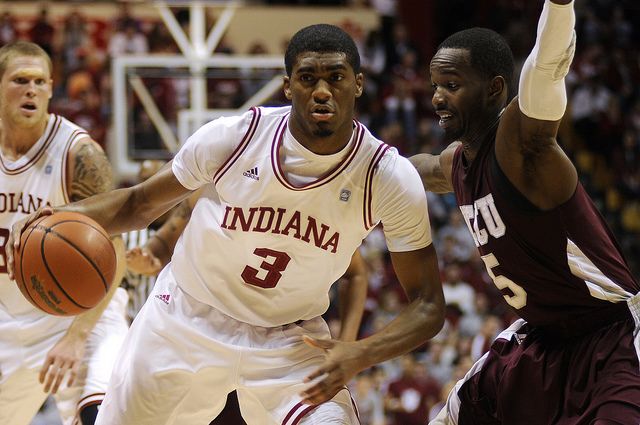 (Photo credit: James Brosher)
On this morning's Big Ten coaches teleconference, Indiana coach Tom Crean was asked whether Maurice Creek's struggles this season were more mental or physical by C.L. Brown of The Louisville Courier-Journal.
Crean said it's a combination of both, but noted that Creek's mental struggles are being fed by the fact that he's not the same physically:
I think the mental plays into it because the physical is not there. And when you can't do what you're used to doing, that's certainly going to become part of the mental process for you.

He's working very hard through it. We need him to continue to get better defensively and find things that he can do to help us that much more. He's certainly not shooting it at a high level right now like most guys that score points. A lot of times their mindset is predicated on if the ball is going in the basket or not. And he's gotta understand that it's not always going to go in the basket for him right now because he can't do all of the things he did a year ago or a little over a year ago before he got hurt.
I'm not displeased with him at all, I know he gets frustrated and upset. The bottom line is none of us have been through an injury like this in this program right now outside of Tim Garl and our doctors to see how long it takes for somebody to get through that and certainly Maurice has never been through it. It's just a process right now where he's just got to continue to trust what he's doing, continue to get better and let's see what happens. We knew it was going to be hard, but then you have to live through it. And that's exactly what we're trying to do.
It's been a tough sophomore season thus far for Creek, who is shooting just 39 percent through 15 games. After shooting close to 45 percent from 3-point range in 12 games as a freshman, Creek is hitting just 31 percent (23-of-74) from beyond the arc this year. The lift on his shot is clearly not yet back to where it was prior to the injury.
While there were certainly high hopes for Creek, the reality is, as Crean said, he's never gone through something like this before and no one really knows how long it will be before he's the same player again.
Filed to: Maurice Creek, Tom Crean