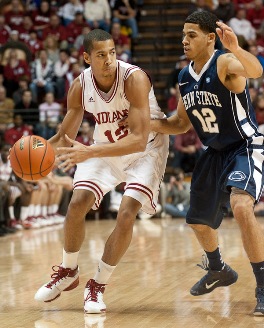 BLOOMINGTON — Tom Crean appeared a man defiant in his postgame press conference Monday night.
He oozed belief, while admitting that, at times, his team has lost it. He said "old scars" were still hurting Indiana, particularly in close games like this, but remained adamant that his team will eventually put them to rest forever. He said the things a man in his position must say, perhaps the only things he could say.
But there's a disconnect in that reasoning.
Indiana's problems are no longer individual. They are not problems with Verdell Jones, or problems with rebounding, or turnovers or 3-point shooting or perimeter defense or ball pressure.
Indiana is losing as a team, suffering from an epidemic lack of confidence. Against Penn State on Monday night, players looked the wrong kind of cautious — double-clutching under the rim when a straight put-back would have been fine, unwilling to move or move the ball, or any of a host of other signs of a team that no longer believes in its every move.
"The old wounds and the old scars of getting close and not being able to pull it off came back and got us," Crean said, referring to his team's near comeback Monday night. The Hoosiers were down as much as 14 in the first half, but cut slowly into the deficit in the second, taking a brief one-point lead that lasted 35 seconds.
But, as has happened too many times over the last 2 1/2 years, the game slipped away, lost on what Crean described essentially as the fundamentals — box outs, defense — and a lack of belief.
"I'm not looking to see a 2:28 timeout with a 'We just can't get over the hump' look, because that was the past repeating itself," he said. "We've got to learn to get over the hump, and we haven't been able to do that."
This was the one game Indiana was supposed to be guaranteed, the one game they couldn't afford to lose. Fox Sports analyst Jeff Goodman even went so far as to call Monday's contest a "must-win game" for the Hoosiers.
But such urgency was not there early, when the Hoosiers' lack of effective on-ball pressure gave Penn State too many open looks. And it was destructive late, when too many possessions were rushed or wasted by poor shot selection.
"I think crunch time I think it's natural for people to want to try to be a hero, people try to do their own thing," Jeremiah Rivers said after the game. "And I think that's obviously not the way we're gonna win games."
But it was that greater idea of "crunch time" that permeated everything Monday night. It's what, perhaps more than anything else, has plagued Indiana since 2008 — the inability to make the important play at the absolutely crucial moment.
Crean admitted after the game that the Hoosiers' non-conference schedule was built in part to give them "some wins to keep moving forward." But in Indiana's five losses, the script has played out remarkably similar — a slow start early, coupled with a second-half surge to bring the game to its tipping point, only to slip at the most important moment.
"Sometimes," said Penn State coach Ed DeChellis, referring perhaps unknowingly to the game as a whole, "you've got to make plays when they're there to be made."
How is such a problem corrected? That, it would seem, is the answer Indiana has sought throughout Crean's tenure. How do you teach a team to win when all it knows is losing?
If the last two years are evidence, there is no easy answer. Maybe there is no answer at all. All the things this team was when it was losing that were supposed to be the root causes no longer apply. Indiana has depth, experience, scoring ability, defensive presence.
No, it's not graced in the way that say, Ohio State is. But the team that beat the Hoosiers inside Assembly Hall on Monday got 82.6 percent of its points from three players. You make do with what you've got the best you can, and Indiana has more, at least at face value, than Monday's performance suggested.
And so came Crean's Monday night defiance: acknowledging that his team still has not learned how to win, but adamant that the past will remain firmly there.
"We're not going back to those days," Crean said. "We're not going to relive those."
(Photo credit: Jamie Owens/J. Scott Photography)
Filed to: Ed DeChellis, Jeremiah Rivers, Tom Crean