Indiana a leader, "if not ahead of everyone else," for Pitchford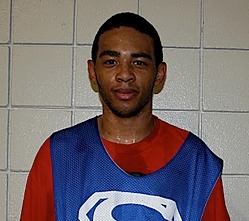 Several schools have begun ramping up their interest in Walter Pitchford, a 6-foot-9 power forward in the class of 2011, perhaps none moreso than Indiana.
"I would call Indiana a leader, along with the Memphises and Arizona States," his head coach, Steve Ernst, told Inside the Hall. He said Washington, Minnesota and Illinois were also showing interest, but IU is among the leaders, "if not ahead of everyone else."
Pitchford was committed to DePaul in the class of 2010, but asked out of his letter of intent when then-coach Jerry Wainwright was let go. He's since reclassified to 2011, and his versatility has several schools interested.
Ernst described Pitchford, who is officially listed at 6-foot-9, 212 pounds on the Summit Christian Academy roster, as a forward capable of shooting with range or scoring in the low post.
"I don't think you get a more athletic kid in America at his size, and a much, much better shooter than you would expect," he said. "We just beat Detroit Pershing the other day, and Walter hit six straight jump shots."
Ernst also said Pitchford is averaging six blocked shots a game for the East Lansing, Mich., based school.
An offer has not yet been extended, to the best of Ernst's knowledge, by Indiana or anyone else. Since re-entering the recruiting process, he said Pitchford and his family have been patient, trying to better his academics while they have the opportunity and listen to what several schools have to say.
Tom Crean has been to a few of Pitchford's practices, Ernst said, and has been impressed with what he's seen.
"They're trying to get the players that they want. They're trying to get to where they want to be," Ernst told Inside the Hall. "From conversations I've had, they think Walter can help them win Big Ten Championships."
For now, Pitchford is working with Ernst not just in the classroom but also on his back-to-the-basket game, and on being a more disciplined rebounder — as Ernst put it: "more well-rounded." But Ernst was adamant that Pitchford is "a real gentleman" with a bright future.
"He's still a young kid, and he's just getting there, but I think someday he's going to be a great one, not a good one," Ernst said. "Any coach, they'd be lucky to have him."
Filed to: Walter Pitchford