Big Ten Conference unveils new logo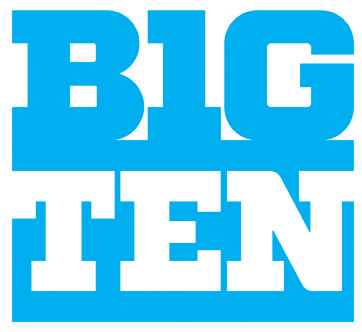 … And in doing so, also sent out a lengthy press release that detailed the new football divisions and the following on the new look for the conference logo:
The new Big Ten logo was developed by Michael Bierut and Michael Gericke of the international design firm Pentagram.

"The new Big Ten logo was developed to symbolize the conference's future, as well as its rich heritage, strong tradition of competition, academic leadership, and passionate alumni," said Gericke. "Its contemporary collegiate lettering includes an embedded numeral '10' in the word 'BIG,' which allows fans to see 'BIG' and '10' in a single word. Memorable and distinctive, the new logo evolved from the previous logo's use of negative space and is built on the conference's iconic name, without reference to the number of member institutions."

The new logo also provides the flexibility of multiple versions which can be used horizontally, vertically and within new media.

"The new Big Ten logo provides a contemporary identifying mark unifying 12 outstanding institutions," said Delany. "It conveys some elements from the past while simultaneously introducing new features. We think the new logo is fun and has something for everyone."
Not a big fan of the new look, but who knows, maybe it'll grow on me. Thoughts, anyone?
I'm not going to dig into the naming for the football divisions, but our friend Pat Forde of ESPN.com summed it up best on Twitter:
Big Ten went with the "Legends" and "Leaders" division names. Which is about as corporately lame as it gets.
Filed to: Big Ten Conference