Chandler interested in IU, taking wait-and-see approach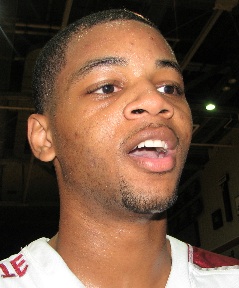 Lawrence North senior Michael Chandler, one of the top remaining players still available in the 2011 class, said Wednesday night that he's interested in Indiana.
"I think Indiana's a great school. They've been there for me ever since I started playing, so they mean a lot," Chandler told Inside the Hall. "I haven't talked to them (directly). They've called my uncle and Coach (Jack) Keefer."
The 6-foot-10, 245-pound center, who previously committed to both Louisville and Xavier, is in no rush to reach another decision.
In addition to IU, Chandler said his uncle and Keefer have been contacted by UConn, Oregon, St. John's and Syracuse.
"I've just been really focused on the season," he said. "I'm playing pretty good. I love playing with my teammates and making each other better as players on and off the court. I'm having fun this season with my team."
Lawrence North will be in Lexington on Saturday for a game and Chandler will watch the IU-Kentucky game at Rupp Arena.
"We have a high school game in Lexington and while we're down there, we're just gonna watch the game," Chandler said. "I've never seen that game up close and in-person before. It's just something we're just going to watch."
Indiana's recent recruiting momentum, including nine commitments since the beginning of August, is something Chandler is well aware of.
"I think (Crean has) gotten commitments from a lot of younger players and they could possibly change the program," he said. "I think I could see myself fitting in at IU."
(Photo credit: Jody Demling)
Filed to: Michael Chandler