Engel's thoughts on Cathedral at Broad Ripple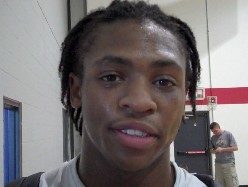 Thanks to our friend and former IDS sports writer Chris Engel for this report.
Stats:
Patterson: 7-of-16 FG (5-of-11 3PT), 6-of-10 FT, 25 PTS, 1 AST, 2 ST, 1 REB, 1 TO.
Hartman: 5-of-8 FG (4-of-7 3PT), 14 PTS, 1 AST, 2 ST, 4 REB, 2 TO.
Thoughts on the game:
Collin Hartman completed a weekend sweep of future Hoosier teammates Saturday night when his Cathedral Irish defeated Ron Patterson and the Broad Ripple Rockets, 68-65.
It was an emotional night at Broad Ripple High School as the team honored former teammate Steven Jamison who passed away from cancer last July. After Patterson won the opening tip against Hartman, the team called timeout and went up into the stands to give the game ball to Jamison's family. The two teams fought back and forth the entire game with lead exchanges, but in the end, Cathedral made a few more plays than Broad Ripple to pull out the three-point victory.
Hartman:
He had an impressive shooting night going 5-of-8 from the field, including 4-of-7 from beyond the arc, en route to scoring 14 points. Hartman showed off his complete skill set by adding four rebounds, two steals and one assist to his scoring effort.
Cathedral had a balanced offensive attack, which resulted in stretches of play when Hartman didn't get the ball. Cathedral would have been better served to try and get Hartman the ball more in the flow of the offensive. On the other hand, Hartman should have been more assertive in getting the ball. While Hartman showed good ballhandling skills, his collegiate position is likely at one of the forward spots. He didn't show much of an inside game although he had a size advantage on every player guarding him.
Hartman did have one of the plays of the night on one of the few possessions Patterson guarded him. Toward the end of the third quarter, Hartman got the ball on the wing and threw an impressive shot fake at Patterson, who bit at the fake and jumped up to block the shot. With Patterson in the air, Hartman took a dribble to his left and swished a three-pointer to stretch the Cathedral lead to five points.
This was my first time seeing Hartman play, and I came away impressed with his overall game. It was obvious why Tom Crean and other coaches offered Hartman at such a young age. I would have liked to see him crash the boards harder and command the ball more on the offensive side of the floor. However, in just beginning his sophomore season in high school, Hartman has plenty of time to improve his already impressive game.
Patterson:
He showed flashes of great play in putting up 25 points to lead Broad Ripple. When he gets his feet set and takes a good shot, Patterson has a beautiful looking shooting motion. Although on paper it looked like Patterson had a good shooting game (he went 7-of-16 from the field and 5-of-11 from beyond the arc), Patterson took many ill-advised shots. Some of the bad shots went in and he was bailed out on three other poor shots by drawing a foul. I would have liked to see Patterson attack the basket more instead of settling for long three-pointers. The one time Patterson drove the lane hard, he got an easy lay-up. Trailing by one point in the final minute, Patterson had the ball in his hands with the chance to take the lead. Instead of driving to try and draw a foul or get a lay-up, Patterson settled for a 17-foot jump shot, which he air-balled. Patterson played some point guard for Broad Ripple, but he will have to improve his ball-handling skills if he wants to play PG at the college level.
Patterson will make his mark at IU on the defensive end of the court. Against Cathedral, Patterson had just two steals, but he had several deflections. His long wingspan makes it difficult to get a clean shot against Patterson and allows him to clog the passing lanes. Patterson also has a toughness to him that shows on the defense end.
Patterson's best attribute is his toughness. Buss did not back down the entire game. This attitude led to some of the bad shots Patterson took, but it also led to many great plays on both ends of the court. In particular, after Hartman scored on Patterson with the shot fake, Patterson responded by hitting a deep three the next possession. And while Patterson air-balled the final shot, his willingness to put the game on his back shows his competitiveness.
Filed to: Collin Hartman, Ron Patterson