Notes from the much anticipated debut of Trey Lyles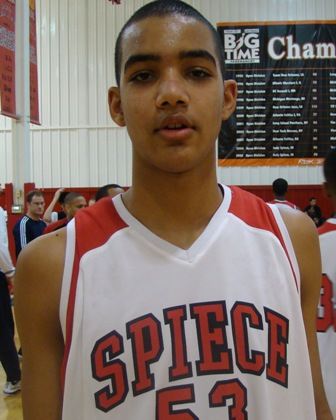 Joe Eberhardt is a high school sports blogger and regular contributor to Inside the Hall. You can follow him on twitter at @IndyHSHoops and read his blog, IndyHSHoops.com.
In one of the more anticipated Indiana high school basketball debuts in recent memory, Trey Lyles took the floor for Arsenal Technical High School on Wednesday, Nov. 23.
The 6-9 freshman forward, who committed to Indiana in September, scored 12 points and pulled down 19 rebounds, helping lead Tech to a 53-45 victory over Manual.
Lyles scored six of his team-high 12 points at the foul line, using his size and ball-handling to create mismatches and draw fouls. He looked extremely comfortable handling the ball, often running the point and setting up the offense for Tech. He was able to beat opponents off the dribble and did a stellar job of getting to the line. Lyles finished 6 of 10 from the charity stripe, 3 of 10 from the field and missed his only 3-point attempt.
For a freshman with the national spotlight on him, Lyles played with poise and didn't look rattled on the road. He certainly has the shooting touch to be a threat from the perimeter, but forced the jumper at times rather than establishing himself in the post. His footwork in the post is tremendous and his array of post moves allows him easy scoring opportunities in the paint. Lyles has a great spin move that creates separation from the defender and he used it twice to get a great look at the turnaround jumper, but missed both looks. During the third quarter he used that same spin move on the left block and laid in an easy basket off the glass with two hands.
Because of his skill and size, Lyles drew constant double teams, but was an effective passer out of the post. He has great vision and is able to use those double teams to his advantage, finding teammates on the perimeter for jump shots or hitting a cutting teammate for a basket. On one occasion Lyles threw a one-handed behind the back bounce-pass out of the high post that led his teammate to a wide open layup.
Although he was the tallest player on the court by six inches, what Lyles did on the glass was extremely impressive. He has great positioning down low and times his jumps well to get the most out of every leap. He grabbed 19 rebounds total, 16 of them on the defensive end. Lyles scored on two of his three offensive rebounds and drew a foul on the other.
Defensively, Lyles size gave Tech an intimidating defensive presence. He only blocked one shot, but altered several others and forced opponents to think twice before entering the paint.
Final analysis: Lyles played well for a 14-year old freshman playing varsity basketball for the first time. There is room for him to assert himself in the low post more often, but Lyles is a good enough shooter that the perimeter jump shot should be a part of his game. As he matures, gets stronger and gains more experience, he'll continue to improve and impress on the court.
Filed to: Trey Lyles