Scouting Report: 2013 commit Collin Hartman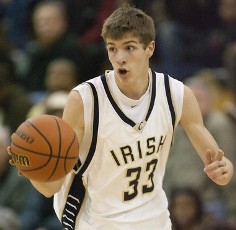 Joe Eberhardt is a high school sports blogger and regular contributor to Inside the Hall. You can follow him on twitter at @IndyHSHoops and read his blog, IndyHSHoops.com.
Indianapolis Cathedral forward Collin Hartman joined classmate Devin Davis Jr. of Warren Central as the first two members of IU's 2013 recruiting class when he made an oral commitment on November 21. Here's an in-depth look at the rising sophomore:
Most Impressive: The first two things that jump out about Hartman are his skill level and versatility. Hartman has great ball handling and shooting for a player his size. At 6'7, he poses a matchup problem for most defenders. He'll blow by slower players off the bounce or bring smaller defenders into the paint and finish down low. He does a great job of drawing fouls near the basket and is a great shooter from the charity stripe. He has good length (6'11 wingspan) which helps him both as a rebounder and a defender. He's also a gifted passer that possesses the ability to find teammates on the fly and take advantage of opponents trying to double team him. Hartman plays with poise and confidence every time he steps on the court and you probably won't believe he's just a sophomore after watching him play.
Needs Improvement: Hartman isn't the strongest or most explosive player on the court, but he's also only 16 years old. As he continues to mature physically and grow, adding strength will help him on the defensive end and on the glass. Offensively, there's not really a glaring hole in his game, but he could work on improving his shooting consistency. He's got great form on his jump shot, but can be streaky at times. Again, he's just beginning his sophomore season and most players his age have room to improve.
Conclusion: Hartman will arrive in Bloomington as a versatile player ready to make a multitude of contributions. In college he'll likely play the three, but could likely slide up to the four if necessary. Hartman can impact the game in so many ways, that even if he's not having a great scoring game he'll find teammates or crash the boards. He'll need to get a little stronger for the rigors of Big Ten play, but he has plenty of time to work on that area of his game. He has a great work ethic and will continue to improve as a player as he gets more experience.
(Photo credit: IndyStar.com)
Filed to: Collin Hartman