Gary Harris, Yogi Ferrell stand out in final tuneups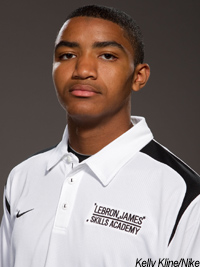 Joe Eberhardt is a high school sports blogger and regular contributor to Inside the Hall. You can follow him on twitter at @IndyHSHoops and read his blog, IndyHSHoops.com.
The IHSAA Boy's Basketball begins tonight, but a few schools were still fine tuning their talents on Saturday in scrimmages.  Here's a quick recap of the IU targets involved in two scrimmages I attended – Hamilton Southeastern vs. Perry Meridian and Park Tudor vs. Crispus Attucks.
Hamilton Southeastern vs. Perry Meridian
Gary Harris, Hamilton Southeastern (pictured): The 2012 prospect appeared to be at full strength after dealing with a sprained ankle during the summer. Harris has definitely regained all of his explosiveness and lateral quickness. My unofficial tally had him at 14 points and six rebounds as he played sporadically throughout. Harris shot the ball well, especially from the midrange and created several shots for himself off the dribble. He was also a factor on the glass and was aggressive in his pursuit of loose balls. Overall, Harris, who attended Sunday's IU-Evansville game, looked great and if he's able to shoot this well during the season, is poised for a huge year.
Zak Irvin, Hamilton Southeastern: The first thing that stuck out about the rising sophomore was his size. Irvin looks like he has grown an inch or two and it may be safe to call him 6-6. My unofficial count had Irvin with 15 points and five rebounds. Along with Harris, Irvin made an impact on the glass, using his height and length to help his team on the boards. Irvin shot the ball extremely well, knocking down 3-pointers and mid-range jumpers off catch and shoot opportunities. He also looked more comfortable with the ball in his hands, using the pump fake and attacking the basket on several occasions.
Park Tudor vs. Crispus Attucks
Yogi Ferrell, Park Tudor: Ferrell played more of a distributor role on Saturday, setting up teammates and handing out assists. Park Tudor has more weapons this season, which will help free up Ferrell to set up teammates as well as score. Yogi, who will announce his college decision on Wednesday, broke down the defense at will, often drawing double teams and kicking the ball out to an open shooter on the perimeter. My unofficial stats on Ferrell: 12 points and six assists. Yogi shot the ball well, but wasn't forced to take any shots as he had plenty of scoring help from his teammates. Look for Ferrell to have a great year, not only as a scorer, but as a floor general and assist man.
Trevon Blueitt, Park Tudor: The heralded 6'5 freshman Park Tudor freshman, who already holds an offer from Indiana, was impressive. He did a great job on the glass, a role that he'll have to fill for most of the year since he's their tallest player. My unofficial tally had Bluiett with 12 points and nine rebounds. Bluiett showed a smooth shooting stroke and also appeared to have confidence in his ball handling. The good thing about Bluiett playing on such a talented team is that he won't be asked to do too much, too early. Bluiett should begin the season as a starter, but he'll have teammates to help alleviate any early pressure or jitters he faces this season.
Filed to: Gary Harris, Trevon Bluiett, Yogi Ferrell, Zak Irvin