Ferrell Sr: "I'm thinking maybe IU"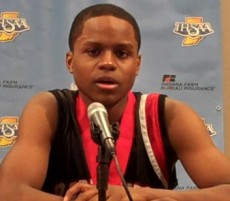 Cody Zeller's commitment was always expected to immediately impact Indiana's overall recruiting picture, particularly with Zeller's close friend Yogi Ferrell. Hearing the words today made presumption reality, according to Ferrell's father, Kevin Ferrell Sr.
"I think it does accelerate it," Ferrell Sr. said of his son's recruiting process, adding that Yogi has "always wanted to play with Cody."
"There might be a process that he may go there," Ferrell Sr. told Inside the Hall. "As it stands right now, I'm thinking maybe IU."
Landing Zeller's commitment, probably as sought after as any in Indiana basketball's last 30 years, has fans hopeful that his joining the fold will open the door for fellow top recruits.
Success certainly breeds success in the game, but given the relationship between Zeller and several top prospects — most notably Ferrell — grabbing the 2011 forward was crucial for Indiana in numerous ways. Such a shift in Ferrell's overall process, which Kevin Sr. described as "wide open," appears to be good news for Hoosier fans.
Yogi Ferrell has long been considered an IU lean, something Kevin Sr. acknowledged Thursday. Between the chance to play with some of close AAU teammates — including Zeller, Austin Etherington, Peter Jurkin and 2012 forward Hanner Perea — and the opportunity to put Indiana back in the forefront of college basketball's collective consciousness, Indiana has a lot to offer the younger Ferrell.
"The challenge of getting IU back on its feet is intriguing to Yogi," his father said.
The next step in the process, according to Ferrell Sr., will be a family sitdown, to try and pin down Yogi's next move, which could include one or two visits. Indiana clearly sits well in any such discussion.
Not lost on the Ferrells either is the fact that Indiana has an obvious need at point guard in the 2012 class, a need Yogi Ferrell would fill nicely. Rivals rates Ferrell as the No. 2 point guard in his class, and No. 17 overall. The recruiting service considers him a five-star prospect, No. 2 overall in the state of Indiana in his class. Committing to IU would pair him with Rivals' No. 1 in the Hoosier state, Hanner Perea.
And from his father's perspective, Indiana fits nicely as well. It's close, it's about to be saturated with what Ferrell described as "good kids, good caliber kids," and there's an obvious slot at Ferrell's preferred position.
"I think IU would be my preference," he said. "(The) fit would just complement him well right now."
Filed to: Austin Etherington, Cody Zeller, Hanner Perea, Yogi Ferrell