Zeller has already decided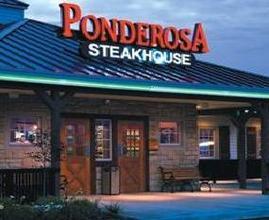 Cody Zeller has reached a decision, and I must tell you that I am not pleased.
He will make his announcement at the historic Hatchet House, thus eschewing an even more storied and significant lump of tradition: the local Ponderosa.
I was crushed when I heard the news. Convening near a steaming buffet to hear Tyler Zeller announce his decision, with that mixture of baked apples and mac and cheese wafting through the air, was a highlight of my career. While Tyler, the middle brother, explained his reasons for choosing North Carolina, I constructed a most excellent ice cream sundae. (Not really, but I wish I had.)
No, seriously, it was an interesting day. Here were the Zellers, already basketball royalty in the state and about to send a kid off to one of the most prestigious basketball programs in the country, hanging out in a the poorly lit wood-paneled room near the local Wal-Mart. Now I don't mean to portray them as bumpkins. Quite the contrary. The answers they all gave were insightful, and they clearly by then had a sophisticated understanding of how college basketball — a ruthless and intricate undertaking that ends up spitting out many of those who it first accepts — works at the highest level.
Which is why I'm here today to say this: anybody who has claimed to this point to have anything more than a hunch about where Cody Zeller is going to go to college is fibbing. The Zellers simply do not work that way. They don't do drama. If Cody at some point in the last few weeks had come to a final decision, he would have just gone ahead and said as much. The very act of holding a press conference is, I'd guess, an uncomfortable display verging too closely on boasting. But it's necessary because otherwise they'd have to field phone calls from 50 reporters, all with the same questions.
Maybe word has leaked out in the past few days since Cody decided he was ready for an announcement, but I simply don't see a scenario in which he knew, for sure, a few weeks ago. That's when he became fodder for radio and internet folks who needed to grab your attention. Because, economically, it's not very complicated: attention equals money. That's a pretty straight line, and one that is, unfortunately, often easier to see than the connection between being responsible and building a loyal audience that will guarantee revenue.
Nobody I've talked to in Indiana seems to have a very strong feeling about where Zeller will go. He's a quiet, unassuming kid. It always made me chuckle when somebody would tell me that Cody "didn't really like Brad Stevens" — which is just plain hard to believe in general — or that he "didn't like the vibe at North Carolina." These thoughts were clearly, at best, hopes turned into thoughts. I don't believe that Zeller would have revealed feelings like that, nor that he would have had them. You don't narrow it down to three schools if you have concerns like that about two of them.
Fact is, late in the process it's not about eliminating schools. It's about figuring out which one feels most right, and it's been my experience that in most cases tangible factors stop mattering as much. Butler's got a dynamic young coach and is coming off a Final Four. North Carolina is North Carolina. Indiana might soon be Indiana again, especially if Zeller — and a horde of his AAU buddies — decide to play there.
Even though Zeller may mention specific merits of the school he chooses, those thoughts will really be a convenient way to discuss something a bit more mystical than some pro/con list. It's not easy to discuss a feeling, nor is it simple for a coach to make a prospect believe in his program on that level. Showing off new locker rooms or old banners or adoring fans is the basic stuff. Anybody can do that. It's a whole different thing to get somebody to want to dedicate their life to your cause.
If Tom Crean lands Zeller, he deserves credit. It would certainly be his coup d'état. But he's already shown that the Hoosiers will be able to recruit native Hoosiers.
There's no getting around the fact Zeller means more than he should from a public relations standpoint, and maybe even within Crean's own psyche. Indiana lost Tyler Zeller because it was mired in Kelvin Sampson's muck, so Cody's commitment can be construed as proof that that era is over. Cody was also one of the first players that Tom Crean began recruiting when he arrived, so his commitment can also serve as proof that those difficult days and weeks and months and first two years led to something.
What Cody Zeller really is, though, is a very promising young basketball player that will need time to become stronger before he can be an impact player, no matter which school he decided felt most right.
Filed to: Cody Zeller