Report: Cody Zeller to announce mid-week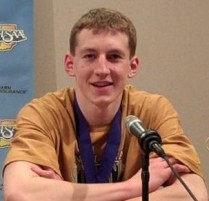 Citing a source, Herald-Times IU beat reporter (and our friend) Dustin Dopirak is reporting that a decision from five-star Washington forward Cody Zeller will likely come in the middle of next week:
A source indicated tonight that Washington forward Cody Zeller is likely to announce his decision mid-week, but there is no clear indication of what school he will decide to go to and that Zeller himself may still be deciding. There was talk that he would announce his decision on ESPNU, but that now appears unlikely to happen.
Mid-week, presumably, could mean Wednesday, the first day of the early signing period.
Interesting in Dustin's report is that Zeller could still be in the process of reaching his decision. This corroborates information Inside the Hall received from a source earlier this evening that another school involved in the recruitment had not yet been notified of a decision as of tonight.
The good news is that the absence of ESPNU should mean that media, including us, will be able to cover the announcement whenever it's made. Looks like this one could be going down to the wire, folks.
Filed to: Cody Zeller