Tuesday Notebook: Zeller, Chandler, Ferrell, more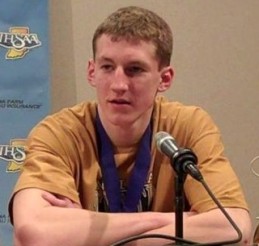 + Tom Crean and assistant coach Tim Buckley, in case you missed it, were reportedly in Washington this morning to watch Cody Zeller's early AM workout with the Hatchets. Crean obviously cannot tweet about specific recruits he is out watching, but his string of tweets from earlier in the day indicate he was in Zeller's neck of the woods. Zeller is finished with two of his official visits (Butler and North Carolina) and will take his final visit, to Bloomington, the last weekend of October for "Night of the Living Red" and the Northwestern football game. The overall vibe on Zeller continues to be very positive for Indiana, but as most of you know, both Cody and his family are keeping the process very tight lipped. The fall signing period begins on November 10.
+ Crean also mentioned Evansville in his tweets from today and the prospect in that area of note is likely 2014 Evansville Harrison guard Ernie Duncan, who attended Hoosier Hysteria. Not a lot out there yet on Duncan, but there is this YouTube video. Duncan was also listed on ESPN's first 2014 rankings at No. 75.
+ Steve McClain was also out today, per a tweet from Crean, and according to our friend Kyle Neddenriep of The Indianapolis Star, the first year IU assistant was at Lawrence North watching Michael Chandler. The 6-10 center, who originally committed to Louisville and then backed out last spring, has already taken official visits to West Virginia and Providence. According to Neddenriep, Chandler will take his third official visit this coming weekend to Xavier.
+ IDS men's basketball beat reporter Greg Rosenstein posted Q & A's with both Yogi Ferrell and Jeremy Hollowell and while there's nothing earth shattering in either piece, both are worth a look to get each player's prospective on Hoosier Hysteria.
+ Since we've had a few emails and questions in the comments, here's the pertinent info for "Night of the Living Red," per IU:
Our next public event will be Night of the Living Red, Friday October 29 in Assembly Hall. Everyone is invited to trick or treat at 7 p.m. And a Cream and Crimson scrimmage will begin at 8 p.m.
+ And also, this was officially announced on Friday, but we tweeted it a couple of weeks ago, Taylor Wayer has been added to the roster as a walk-on:
Taylor Wayer has been added to the men's basketball roster as a non-scholarship player. A guard from Indianapolis, he graduated from Bishop Chatard last year and averaged 18 points and 3 assists. He was a member of the All-City Tournament team and was a preseason All-State honorable mention team. A three-year letterwinner he was team MVP as a senior and played for Travis Daugherty.
Filed to: Cody Zeller, Jeremy Hollowell, Tom Crean, Yogi Ferrell