Q & A: 2013 Jeffersonville guard Darryl Baker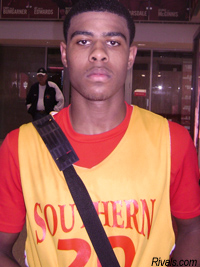 After missing his entire freshman season with a broken right leg, Jeffersonville sophomore guard Darryl Baker returned to the court for Team Southern Indiana and put together an impressive summer on the AAU circuit. Inside the Hall caught up with the 2013 guard on Tuesday and talked about his recent trip to Bloomington and a variety of other topics:
On his trip to Bloomington for the IU-Michigan football game:
"It was great. I loved it. I loved the environment. I love the coaching staff, the players. They're great people to be around."
On playing in open gym at Cook Hall:
"I liked it. I got to get a couple of runs in. There were some good players there from Indiana like Jeremy Hollowell and Hanner Perea, those type of guys. It was nice to get to play against them since I only see them maybe once in the summertime during AAU ball."
On where things stand with IU from a recruiting standpoint:
"I think they're waiting for me to come back (to offer a scholarship). I talk to Coach Crean all the time whenever I go down there and visit. He tells me I can be the next one, the next good player. He tells me I just need to work hard and keep the same attitude I have."
On the recovery from his injury:
"I think I'm at 100 percent right now. I feel better than I had before. I don't have any problems with my leg. Before I broke it, I had problems with it, it always hurt. Now I don't have any problems, so I think I'm at 100 percent, maybe even better."
On the schools actively involved in his recruitment:
"Mainly Indiana, Purdue and Xavier are the ones I talk to the most. Ohio State and Michigan State, too."
On attending Hoosier Hysteria this year and other visits he could take this fall:
"Yes, I am going. I think I'm going to go down to Purdue sometime, whenever I call Coach Lusk back."
On the upcoming season at Jeffersonville and the position he might play:
"I think we can do the same thing we did last year or even better. We just have to keep working hard. We're very undersized, but we have the potential. Whatever he assigns me, I'm going to do. I want to play the two or the three. If I have to run the one, it'd be fine, I can, but the two or three is what I really want."
Follow Inside the Hall on Twitter.
Filed to: Darryl Baker