It was ten years ago today …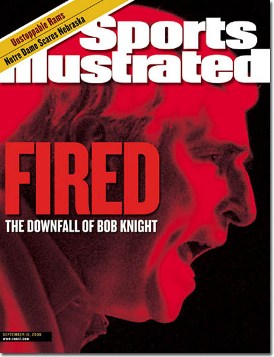 Today marks the 10-year anniversary of Bob Knight being relieved of his duties as head basketball coach at Indiana University. Time flies, right? A lot, obviously, has transpired in the time since Knight was fired.
Mike Davis rallied the program, albeit briefly, for a run to the national championship game in 2002. Davis then failed to sustain his early success, missed on several key in-state recruits and resigned near the conclusion of the 2006 season. He also allowed Bracey Wright to shoot many ill-advised jump shots. And to his credit, he recruited D.J. White.
Kelvin Sampson, arguably one of the worst hires for a major program in history, brought the program to its knees in less than two years via excessive use of the telephone. In the process, the 2007-2008 team, which was capable of a deep NCAA Tournament run, fell apart at the seams. Dan Dakich admirably attempted to fill-in, but ultimately, the damage had already been done.
And then IU hired Tom Crean, who inherited a cess pool of characters from Sampson and had to clean house. Crean is, in my opinion, ultimately going to bring Indiana back to national prominence. You can quote me.
As far as Knight goes, the Inside the Hall staff (all three of us) debated on how to approach this anniversary. But Knight's reluctance to attend his Hall of Fame induction should signal the end, at least from our perspective, of any public attempt by the University to bring him back.
So with that, we're going to open this thread and welcome your thoughts on the last ten years, positive Knight memories, negative Knight memories or anything else you'd like to discuss.
Filed to: Bob Knight